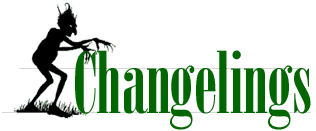 Variants: stocks
It appears that fairy women all over Ireland find birth a difficult experience. Many fairy children die before birth and those that do survive are often stunted or deformed creatures.
The adult fairies, who are aesthetic beings, are repelled by these infants and have no wish to keep them. They will try to swap them with healthy children who they steal from the mortal world. The wizened, ill tempered creature left in place of the human child is generally known as a changeling and possesses the power to work evil in a household. Any child who is not baptised or who is overly admired is especially at risk of being exchanged.
It is their temperament, however, which most marks the changeling. Babies are generally joyful and pleasant, but the fairy substitute is never happy, except when some calamity befalls the household. For the most part, it howls and screeches throughout the waking hours and the sound and frequency of its yells often transcend the bounds of mortal endurance.
A changeling can be one of three types: actual fairy children; senile fairies who are disguised as children or, inanimate objects, such as pieces of wood which take on the appearance of a child through fairy magic. This latter type is known as a stock.
Puckered and wizened features coupled with yellow, parchment-like skin are all generic changeling attributes. This fairy will also exhibit very dark eyes, which betray a wisdom far older than its apparent years. Changelings display other characteristics, usually physical deformities, among which a crooked back or lame hand are common. About two weeks after their arrival in the human household, changelings will also exhibit a full set of teeth, legs as thin as chicken bones, and hands which are curved and crooked as birds' talons and covered with a light, downy hair.
No luck will come to a family in which there is a changeling because the creature drains away all the good fortune which would normally attend the household. Thus, those who are cursed with it tend to be very poor and struggle desperately to maintain the ravenous monster in their midst.
One positive feature which this fairy may demonstrate is an aptitude for music. As it begins to grow, the changeling may take up an instrument, often the fiddle or the Irish pipes, and plays with such skill that all who hear it will be entranced. This report is from near Boho in County Fermanagh.
"I saw a changeling one time. He lived with two oul' brothers away beyond the Dog's Well and looked like a wee wizened monkey. He was about ten or eleven but he couldn't really walk, just bobbed about. But he could play the whistle the best that you ever heard. Old tunes that the people has long forgotten, that was all he played. Then one day, he was gone and I don't know what happened to him at all."
> > > More on this fairy.
© Irelandseye.com 2000-2004