Dancing costumes
The costumes of today's dancers reflect the clothing of Ireland from the eighth century. The dresses worn by women are copies of the traditional Irish peasant dress and they are adorned with hand-embroidered Celtic designs based on the Book of Kells and Irish stone crosses. Copies of the famous Tara Brooch are worn on the shoulder holding the flowing shawl which falls down over the back.

In the early 1900s there was a minimum design on the costumes but as dancing schools were established, each one endeavoured to design their own distinctive costumes. The interlocking lines in the design denoted the continuity of life. The favourite colours were green and white. Red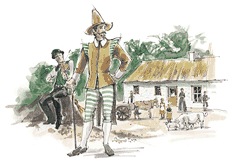 was avoided because of its relevance to England. The ancient Irish were fond of bright colours, in fact it was a mark of high social status in the community to be allowed to wear more than one colour. From around the twelfth century gold thread embroidery was an important item on women's clothing. Lace collars came into vogue around the eighteenth century when Carrickmacross and Limerick Lace were first manufactured. These aspects of Irish culture are still visible in today's costumes.
The male's costume is less embellished but no less steeped in history - they wear a plain kilt or pants and jacket and a brat, a folded cloak hanging from the shoulder. Brat means "cloak" or "mantle" in Irish. The cloak or brat was a symbol of rebellion during the suppression since it enabled the rebels to endure the worst weather while holding out in the mountains. There is evidence that the kilt was worn as far back as the fifteenth century. When Shane O'Neill was presented to Queen Elizabeth he wore a kilt and brat, as did his followers. His appearance is said to have pleased the Queen enormously.
In the early 1800s female dancers wore ordinary peasant dresses and ribbons formed into flowers or crosses. The girl's crimson homespun skirt reached down to her ankles over which she wore a simple black bodice. From the late 1800s pipers wore the kilt, and from about 1910 male dancers began to wear this form of costume. During this period the typical female dance costume consisted of a hooded cloak over a white dress with a sash.
> > > Read the final part of this article
Illustrated by Anne Farrall