Ghost in the old Irish linen mill - A young Irish linen worker, named Helena Blunden, died after a tragic fall in a Belfast mill in 1912. There are many people who believe her spirit still haunts the mill today. The printing company which is now based in the building alerted us to unusual, eerie encounters with a ghostly inhabitant.

Visitors to Irelandseye.com were invited on the Ghost Watch to view a live broadcast by web camera from a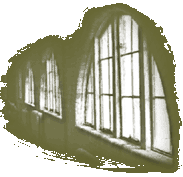 room in the Irish linen mill and to report if they witnessed unusual, strange events. The web camera has been running 24 hours a day, seven days a week and has attracted some three million visitors. We have published visitors' reports of ghost sightings and otherwise and continued to research the history of the linen mill.
A remarkable and accidental discovery of a bundle in the linen mill has unearthed an century old recording and

archive newspaper reviews of Helena Blunden's singing talent. We invite you to listen to this recording of Helena Blunden singing Pie Jesu which was made on 24 January 1912, just three months before her tragic death.
We have updated the reported sightings from our online viewers. In addition to this we have some statistics on our reported sightings and non-sightings over a year.
A layout map of the Irish linen mill indicates the room where Helena once worked and where her footsteps have been heard along corridors and on stairs. Ghost, magic, haunting or myth - you decide.