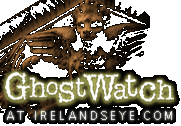 Ghosts in Ireland - supernatural, paranormal, occult, magic or myth, does a ghostly sprit's phantom-like apparition haunt the mill or is it a trick of the light in the dead of night?


Irelandseye.com
Home
Features
Culture
History
Travel



Whose ghost haunts a converted linen mill in Ireland?
A young Irish linen worker, Helena Blunden, died after a tragic fall in a Belfast mill in 1912. There are many people who believe her ghost haunts the linen mill to this day. Irelands eye.com has set up a webcam to watch for an apparition of a ghost.

The webcam broadcasts live from a print room on one floor of the former Irish linen mill. Before you go straight on to the trail of the ghost, please take time to learn something about the young woman whose spirit remains to haunt the mill. Helena Blunden started in the linen spinning room in 1912 at the age of 16. You can also learn about life working in an Irish linen mill. A map of the layout in the linen mill indicates the room where Helena once worked and where her footsteps have been heard along corridors and on stairs.