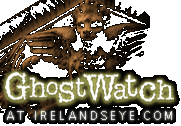 Ghosts in Ireland - supernatural, paranormal, occult, magic or myth, does a ghostly sprit's phantom-like apparition haunt the mill or is it a trick of the light in the dead of night?


Irelandseye.com
Home
Features
Culture
History
Travel


GhostWatch - Help us find the ghost



The map of the layout in the linen mill indicates the rooms where Helena once worked and where her footsteps have been heard along corridors and on stairs. Some of the locations where witnesses have sensed her presence are marked on the map. Click on each one to join the ghost watch. The webcam is live from the old linen mill. Irelandseye asks you to log your observations of any ghostly encounters.