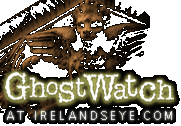 Ghosts in Ireland - supernatural, paranormal, occult, magic or myth, does a ghostly sprit's phantom-like apparition haunt the mill or is it a trick of the light in the dead of night?


Irelandseye.com
Home
Features
Culture
History
Travel









  Margaret was tired before she even began.  She
    stooped over the mop and half heartedly
             dabbled
         it along the top flight.  She
           stopped to chastise a young 
     half-timer who had only
               started and had not been
       warned about Margaret's stairs.


At 7 pm, Helena was finished. Already 
    exhausted by excitement, heat and
 fasting, Helena went down the first flight.
     She tripped on 
         the discarded mop,
  fell over the banister and down to the ground 
          floor.  Margaret
 heard the shrieking
     Helena and looked up to watch Helena
        falling.
  Margaret released her
       grip on the
     young boy and staggered down to the 
         ground floor to discover that Helena was
       already dead.