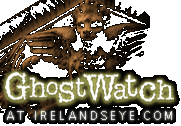 Ghosts in Ireland - supernatural, paranormal, occult, magic or myth, does a ghostly sprit's phantom-like apparition haunt the mill or is it a trick of the light in the dead of night?


Irelandseye.com
Home
Features
Culture
History
Travel


Tell a friend about our GhostWatch

We trust you are enjoying Ghost watching at Irelandseye.com. If you are why not tell a friend about our site and let them help us in our search for the ghost of Helena. The more helpers we have the more sightings we get of strange happens in this building. We appreciate your help.