Barm Brack
Cream the yeast and the sugar and allow to froth up in the milk, which should be at blood heat. Sieve the flour, caster sugar and spice and rub in the butter. Make a well in the centre and add the yeast mixture and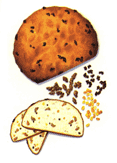 the egg, beaten. Beat with a wooden spoon for about 10 minutes until a good dough forms. The fruit and the salt should be worked in by hand; the gold ring wrapped in greaseproof paper should then be added, and the whole kneaded. Put in a warm bowl, cover and allow to rise in a warm place for about an hour until doubled in size.
---
1/4 pt/ 125 ml/ 1/2 cup lukewarm milk
1 tsp sugar
1 tsp fresh yeast
8 oz/ 250 g/ 2 cups plain flour
1 tsp mixed spice, pinch salt
1 egg, 3 tbsp butter
6 oz/ 200 g/ 2 cups mixed fruit
(currants, sultanas, raisins, candied peel)
1 gold ring (in greaseproof paper)
2 oz/50 g/2 tbsp caster sugar

---
Knead lightly and place in a lightly-greased 7 in /15 cm diameter cake tin and allow a further 30 minutes rising time. Bake near the top of a pre-heated oven at gas mark 6, 400°F, 200°C for 45 minutes. On removing from the oven the brack can be glazed with a syrup made from 2 tsp sugar dissolved in 3 tsp boiling water.