Irish Farmhouse Breakfast
I have fond memories of a particularly sunny summer a year or two ago when I stayed in a farmhouse on the Dingle peninsula. As well as the good weather I remember the breakfasts.
Start off with a freshly-cut half grapefruit with a dusting of superfine sugar, followed by a bowl of smooth oatmeal porridge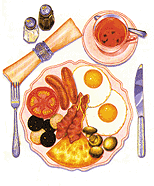 gently cooked in milk and served with an individual jug of cream. After that comes rashers, sausages and eggs, the lot served with scones and brown bread warm from the oven, honey, homemade preserves, fresh butter and a pot of tea.
For each person gently fry two sausages over a low heat until well cooked through and golden brown on the outside. Also fry a couple of slices each of black and white pudding. Remove from the pan and keep hot. Drain off the fat, as it is somewhat indigestible, and fry two rashers of bacon, having first cut off the rind. Now fry a couple of eggs in the bacon fat, spooning the hot fat over the yolks to set them. Fry a few mushrooms, half a tomato and a slice or two of potato cake each. Add a pat of butter if there is not sufficient bacon fat, but do not cook in butter alone as it burns at too low a temperature.