Mutton Broth
It is a good idea to make this broth a day in advance. The fat that rises to the surface will solidify and can easily be removed.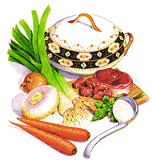 ---
2 lb neck of mutton
6 cups water
2 tbsp pearl barley
1 large onion
1 medium turnip
2 large carrots
1/2 small white cabbage
(serves six)

---
Put the meat in a large pan and cover with the cold water. Bring to the boil and skim the surface. Rinse the barley and add to the pan. Cover, but not too tightly, and simmer gently for 90 minutes. Shred the cabbage and dice the other vegetables and add these to the soup. Bring back to the boil and simmer for another hour. Remove the mutton and separate the meat from any bones, fat or gristle. Chop the meat and return to the soup. Allow to cool and remove fat. Reheat and serve.