Baked Salmon
There is no doubt that this is an expensive dish, but it will feed eight to ten people and makes a fine party piece.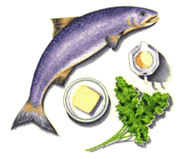 ---
1 fresh salmon (about 5 lb/ 2 kg)
parsley
salt and pepper
1/2 cup butter
1/2 cup dry cider
1/2 pt/ 250 ml/ 1 cup double cream
(serves eight to ten)
---
Clean and descale the salmon, cut off the head and tail and trim the fins. Stuff the parsley into the gullet. Butter some aluminium foil and form a loose envelope round the fish, sealing both ends but leaving the top open for the moment. Dot the rest of the butter over the salmon, season and pour over the cider and the cream Now seal the foil along the top, leaving only a small vent. Bake in the oven for l l/4 hours at gas mark 4, 350°F, I80°C. When ready, take from the oven, remove the skin and reduce the sauce by boiling, stirring all the time. Serve with boiled new potatoes and fresh garden peas.