Blackberry Sorbet
A fresh fruit sorbet is a delightfully refreshing culmination to any meal. As a method of preserving the taste of a warm autumn into the depths of winter this simply-made sorbet is second to none. From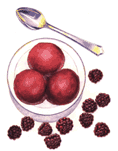 late August to mid October wild blackberries can be picked from bushes by the side of country roads throughout Ireland. A wet summer followed by a warm, dry autumn will ensure a bumper crop.
---
1 lb/ 500g/ 2 cups fresh blackberries
4 oz/ 125g/ 1/2 cup sugar
1/4 pt/ 125 ml/ 1/2 cup water
2 egg whites
(serves four)

---
Clean the blackberries thoroughly and remove stalks. Liquidise the fruit in a blender and strain through a sieve. Dissolve the sugar in the water and boil for about 5 minutes to make a syrup. Add the blackberries and boil for a further minute. When the liquid has cooled, fold it into stiffly-beaten egg whites. Freeze in an ice-cream machine or in ice cube trays in the freezer compartment of a fridge. If the latter is used, the mixture should be stirred about once an hour to prevent large ice crystals developing.