Potato Farl
Also known as potato cake or potato bread, this is very much a northern dish. It is an important - indeed essential - constituent of the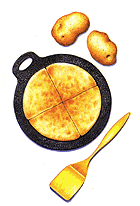 Ulster Fry, alongside bacon, egg, sausage and perhaps fried soda farl.
The recipe calls for cooked, mashed potatoes. These should be freshly boiled, or, better still, steamed and passed through a food mill, and used warm.
---
2 lb/ 1 kg/ 2 cups mashed potatoes
4 oz/ 125 g/ 1 cup plain flour
2 tbsp butter
salt

---

Melt the butter and mix into the potatoes with the salt. Work in the flour quickly but thoroughly and knead lightly. Divide in two and roll out each half on a floured board to form a circle about the size of a large dinner plate. Cut in quarters (farls) and cook for about 3 minutes on each side in a heavy frying pan in a little bacon fat.