Dulse and Yellowman
Did you treat your Mary Ann to some dulse and yellowman,
At the Auld Lammas Fair in Ballycastle-O?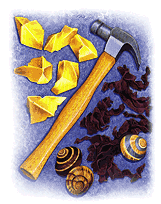 Dulse is a purple edible seaweed. I remember buying it at a penny a bag as a child when sweets were hard to get at. It can also be stewed for a couple of hours and eaten as a vegetable or with oatcakes. It is not known much outside the north of Ireland - and it is no great loss!
Yellowman is a different matter all together. This toothsome, honeycombed, sticky toffee is traditionally sold at the Auld Lammas Fair at the end of August.
---

1 lb/ 1/2 kg/ 1 1/2 cups golden or corn syrup
8oz/ 250g/ 1 cup brown sugar
1 tbsp butter (heaped)
2 tbsp vinegar
1 tbsp baking soda

---

In a large saucepan slowly melt together all the ingredients except the baking soda. Do not stir. Boil until a drop hardens in cold water (240°F, 190°C on a sugar thermometer). Stir in the baking soda. The toffee will immediately foam up as the vinegar releases the gas from the baking soda. Pour out onto a greased slab and while just cool enough to handle fold the edges towards the centre and pull repeatedly until the whole is a pale yellow colour. Allow to cool and harden in a greased tin and break into chunks with a toffee hammer - or anything else that comes to hand.