The Children of Lir
A long time ago, thousands of years ago, the Gaels invaded Ireland, and defeated the people who were there before them. These earlier people were known as the Tuatha Dé Danann, the people of the goddess Danu, who gives her name to the Paps of Danu in Co. Kerry that you can see for miles around, even from the borders of Cork. The Tuatha Dé Danann were sorely defeated by the Gaels at the Battle of Teltown, now in Co. Meath. After this the Tuatha Dé met together and in an attempt to strengthen their position they decided to elect one king who would rule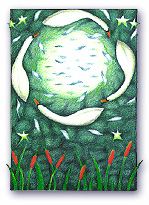 over them all. The man they settled on in their conclave was Bodhbh Dearg of Lough Derg on the Shannon in Connacht, on account of his own qualities and the respect they had for his father, the supreme deity of Newgrange, known as the Daghda.

Now this decision drove Lir, from the Fews in Co. Armagh, into a rage because he wanted the kingship for himself. He left the meeting abruptly without asking leave or saying farewell or even speaking to anyone annoyed by Lir's insulting behaviour, many of the Tuatha Dé wanted to follow him, kill him, and burn his house down but Bodhbh Dearg stopped them and said:

"No, don't do this. That man is too ardent a fighter not to make sure that no one will damage his property. And anyway, his disobedience and churlishness make me no less of a king."

They agreed to follow this advice, and Lir was left to his isolation and anger. So it went on for a long time. Then, suddenly, misfortune descended on Lir: his wife died after a three-day illness. This dismayed him and he became exhausted in spirit. When the story got to Bodhbh Dearg he took pity on the estranged and lonely man, and said:

"I could help Lir now, if he were to accept my friendship. Here at Lough Derg I have, as nurselings from Oilell of Aran, the three most attractive girls in Ireland - Aebh, Aoife, and Ailbhe. Lir can choose whichever of them he wishes on one simple condition, that he acknowledge me as head of the Tuatha Dé."

> > > Read part 2 of this article.