The Children of Lir part 3

"What you have done to us is evil. It is an evil return for all the friendship and care that has been shown to you. Though your magic is strong it's not as strong as the power our father and his friends will bring against you in vengeance. This act of yours will finish you. But please, even if only to lessen the harshness of the punishment that awaits you, put some limit on the enchantment. Give it some end."

"Alright, I'll do that," Aoife replied. "But you're going to regret having asked this favour. You'll stay as you are until a woman of the south lies with a man of the north. And, on top of that, you'll continue in these shapes until you've spent three hundred years on this lake, three hundred on the Sea of Moyle between Ireland and Scotland, and three in the Atlantic off Eris in Mayo. Those will be your adventures and this is your fate from now on."

The swans looked at her and bent their heads in sorrow. Their grief awoke some pity in Aoife and she said:

"There's nothing to be done now to mitigate this curse. You will continue to be able to speak. Also you will sing music that will be like no other music and it will ravish listeners with sweetness. You will continue to be able to think and even though your lives will be harsh you will never completely despair in spite of your pitiful condition."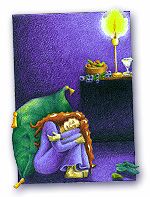 She left them there and when she had gone they swam out into the deep reaches of the lake, paddling slowly.
Aoife went on from Lough Derravaragh to Lough Derg to her foster-father's palace. After Bodhbh Dearg had welcomed her he asked her why she had come alone without the children.
"Lir has started to dislike you and believes you have always hated him. He wouldn't trust you with his children anymore, he says." "I don't believe you," said Bodhbh Dearg. "I love his children more than I do my own and Lir knows that."
He left the woman in her chamber. Having become sure that she had done something wrong he sent messengers north to the Fews. When they came there Lir asked them what had brought them.
"We've come," one said, "because of your children."
"What has become of them?" asked Lir.
"Are they not here with you?"
"No," replied Lir. "They went with Aoife in her chariot to Bodhbh Dearg's house. What has happened to them?"
"Aoife said you would not trust Bodhbh Dearg with them."
"There is malice at work," said Lir. He knew now that Aoife had destroyed or ruined them in some way. He found out that she had gone to Lough Derravaragh on her way to Bodhbh Dearg and he set off next morning. When the children saw his retinue they swam to shore and uttered a song of welcome. Lir came down to the water's edge to these strange creatures who could speak and sing and asked them why they had human voices.
"We," said Fionnuala, "are your four children bewitched by our stepmother out of envy."
"Can this spell be reversed?" asked Lir, heartstruck.
"No," Fionnuala said, and told him the term of the enchantment and the conditions.
When they heard this Lir's people gave three roars of sorrow.
"Can you come ashore? Can you be with us even in your swan form and keep us company? I don't know how I can live without your presence in my house."
"We can't be with human people anymore," said Fionnuala. "We are birds. But we can speak and sing of our sorrow and that will soothe any troubled person. Stay here tonight and our song will comfort and lighten your sadness, my father."
So they stayed and listened to the magical music and slept sweetly in spite of their grief.
The following day he went to Bodhbh Dearg. When he was inside the palace Bodhbh Dearg asked him why he had not brought the children. Lir replied:
"You have been lied to and I most grievously wronged by Aoife over there, your own nursling. She has, through her magic, changed them into four swans."
A violent spasm of shock ran through Bodhbh Dearg's body, and he said to her:
"The children will, in time, be released from this spell of yours, but you will never be freed from what I am going to do to you. What do you loathe and fear most of all?"
She had to reply. Her guilt and his force made her.
"The demons of the air."
"That is what you are this moment", and he struck her with his druid rod and in a dark flurry she was gone into the volumes of the air, where she flies to this day.
> > > Read part 4 of this article.