The Pangs of Ulster
The name Emhain Macha, Navan Fort in Co. Armagh, means the "Twins of Macha" and the terrible story of how these twins were born explains how, in ancient times, whenever Ulster was in danger, its menfolk suffered the pangs of childbirth. The story begins in a remote part of Ulster, in the heart of Pictish territory, somewhere north of where Ballymena is now, and south of Ballymoney. Crunnchu was a wealthy farmer living out in the wilds in solitude and isolation. In spite of this he prospered, and his wife bore him many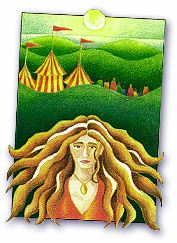 sons who helped him on his farm. However, while some of the boys were still very young he was widowed, but he did not remarry, and he lived alone.
One day, while lying on his couch taking a rest after eating, a beautiful young woman came to him, exquisitely dressed in the finest silk, swift and elegant in her movements. She did not speak to him, but immediately bent down to the hearth and started to kindle a fire. All day she walked around the house, not saying a word, and in the evening she found a bowl for kneading dough, and a sieve for flour and she made bread. She prepared meat too for the household and fed the men. At nightfall she took up the milk pails and went out to the cow byre. Coming back into the house with the pails full she turned to the right inside the threshold to bring good luck to the family and the house, then went to sit in a chair beside Crunnchu. When the men and boys went to bed she stayed behind at first, banking down the flre; then, turning again to the right she went to Crunnchu's bed and awakened him with her light touch.
So she continued, living with him, and caring for him until she became pregnant.
At this time the men of Ulster used to hold a great assembly or fair, known as an "aonach", when all of them would gather together to celebrate their unity, and one-ness, the word "aonach" coming from "aon", meaning one. Now while his wife was pregnant Crunnchu decided to go to this fair like everyone else.
"No, do not", said his woman, whose name, he had discovered, was Macha. "Do not go," she said, "because if you do you will tell everyone who I am and that will be the end of us."
"I promise", he said, "that I will not mention you or refer to you in any way."
> > > For the concluding part of this tale click here
From A Little Book of Irish Myths by Robert Welch, illustrated by Sara Walker.