Christmas Superstitions
As well as the traditional celebrations with the yule log, holly and candles, the season of Christmas was seen as another festival for honouring the dead and predicting the future. In parts of County Donegal on the twelfth night after Christmas, a round cake was placed on the kitchen table and candles, one to represent each member of the family, pushed into in and lit. The candles were said to go out in order of the deaths of family members.
It was believed too that on Christmas morning the donkey would kneel down in adoration of Christ and in remembrance of His birth in the stable. If you could touch the cross on the back of the animal at that particular moment, the wish of your heart would be granted, whatever it was.

On Christmas morning it was also thought very lucky to breakfast by candlelight, and on Stephen's Day, the day after Christmas, it was believed that if you fasted and no flesh was eaten that it would leave the whole family immune to all infectious diseases in the coming year.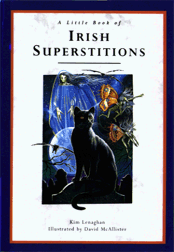 From Irish Superstitions by Kim Lenaghan, published by Appletree Press.