Home away from Home
The following is taken from the Appletree Press book Home Away From Home - the Yanks in Ireland by Mary Pat Kelly. The preparations for the D-Day landings, Operation Overlord, are well-underway.

ON 19 MAY 1944 GENERAL EISENHOWER, while on his tour of the army bases in Northern Ireland, reviewed the sailors on the ships that waited in Belfast Lough to form the greatest Armada ever known. The American battleships USS Arkansas, USS Texas, USS Nevada and the cruisers USS Quincy, USS Tuscaloosa were among the biggest ships in the group.

The invasion of Europe was expected at any time. Belfast Lough from the entrance, right out to the bay of Bangor was literally bung solid naval ships and merchant ships, and three US battleships ready to go down the Irish Sea. And when the order came, they would all start to go off on the convoy, down the Irish Sea around the foot of England, and up through the English Channel, and then to cross down to the Normandy beaches.
Harry Champion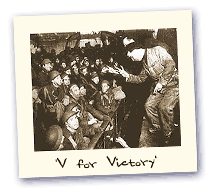 19 May 1944
Anchored as before. At 1020 General Dwight D. Eisenhower, AUS, Supreme Commander, Allied Expeditionary Force, came on board accompanied by Rear Admiral Alan Kirk, USN, Commander Western Task Force, Rear Admiral H.L. Bevan, RN, Flag Officer in Command of Northern Ireland, Rear Admiral Morton L. Deyo, USN, Commander Task Force 129, and Major General Hastings, AUS, and aides, to inspect this vessel. The ship was engaged in a battle problem at the time. The General's inspection lasted for an hour at the completion of which the officer's and ship's company were assembled at quarters. Prior to taking his departure the General spoke briefly over the announcing system, as follows.
"Officers and men of the Quincy, I am proud to be on this ship today. I have been in the European area for a year and a half and during that period I have been on British men-of-war several times where I have been received with greatest courtesy and expressions of goodwill. Although I enjoyed those visits, I have looked forward with eagerness to the time when I could be on board one of the warships of our own fleet. Today I have that opportunity for the first time. I am more than proud to visit your magnificent ship.
"Perhaps you would like to know something about our operations in the Mediterranean, at least insofar as combined operations are concerned. Each branch of the service knows what it could do, but the army and the air force have found that they could not get along without the navy. We had discovered that each branch reaches maximum efficiency when cooperating with the others. The army and the air force are more than glad to have the navy on the team, and we know the navy is glad to be part of it.
"I congratulate you again on this magnificent ship. As I walked her decks today, I found myself wishing that I had earlier in my career decided to follow the sea. I am looking forward to the day when we can be together again and have a big party in some port deep in the Baltic or North Sea - some port which the enemy now claims his own. Good luck to you all."
Deck logs - USS Quincy
3 June 1944
0408, Anchored as before. 0645, Lighted fires under boiler No. 3. 0715, Set Personnel condition III, watch II. 0740, Made all preparations for getting underway. 0758, Got underway, standing out of Belfast Lough, Captain at the conn., Navigator and Executive Officer on the bridge. Proceeding on various courses, conforming to the channel. Deck Logs - USS Quincy
This is your captain. The ship has been sealed as of 8.00 am. That means that the great events for which all of you have been working and preparing will shortly be launched. It also means that every possible effort must be made to prevent any leakage whatever of information from incoming operations, by whatever means, mail, personal contact, or signals. I consider that you are now at battle efficiency and the time has come to polish up all our weapons. From now until D-day only such drills as are necessary to maintain your present state will be conducted. But remember, the enemy we are going up against will tax our readiness to the utmost. We have got to be good.
Captain, USS Texas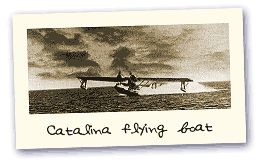 We left Bangor (Co. Antrim) on 3 June. The invasion was to be on the morning of the 5th, as you probably know. The ship was sealed. No one could go ashore after, oh, I'd say about 31 May. They sealed the ship. We were all anchored off Bangor, the whole invasion fleet. Only the high-ranking officers that had business were permitted to shore for any reason. We were shown detailed maps and everything off the Omaha beachhead where we were based. I would say we were shown the relief maps probably either 1 or 2 June, because the ship was sealed and no one could go to shore or come and go.
Richard Kelly - USS Arkansas
On 3 June the Arkansas left Bangor in her wake, sailed to join Rear Admiral Carleton F. Bryant's fire support force "O", which was parked nearby such famed battleships as the Nevada and Texas and the British Warspite, Rodney and Nelson. In the pre-dawn darkness of 6 June, USS Arkansas took up position 4,000 yards off Normandy's Baie de la Seine beaches.
Slave labourers under the direction of Nazi technicians had made of Normandy's shores an adequate rampart for Fortress Europe. High-calihre guns were sheathed in thick concrete emplacements. Machine-gun nests and pill boxes dotted the countryside, together with slit trenches, tank traps and anti-tank ditches. Between the high and low water levels on the beaches were several rows of underwater obstacles - hedgehogs, tetrahedrons and pole ramps interconnected by barbed wire and liberally sown with mines. Allied planes had hammered these defences but a heavy artillery barrage was needed to cut a swath, through which the invaders might pour.
Behind the Arkansas, the gigantic invasion armada filled the channel to the horizon. She had remained undetected, even with the great clanking of her chain as she lowered anchor. Officers in the Arkansas CIC [Combat Information Centre] anxiously pencilled chats, gun crews sprawled at their stations and lookouts peered at the shadowy shoreline until their eyes ached. In the distance the rumble of the pro-invasion aerial assault was audible. At 0530 the surface around battleship Arkansas began erupting with near misses from unseen shore batteries. Turrets buzzed as their electric motors swung them into position; ammunition passers formed their queues. Twenty-two minutes later Skipper Richards ordered his guns into action. For the old Arkansas, Operation Overlord was underway.
At 0730 the landings at Omaha beach were begun.
Ship's history, USS Arkansas
> > > Read the concluding part of this article.
From Home Away from Home The story of the American Army in Ireland during WWII, by Mary-Pat Kelly, published by Appletree Press. Find out how you can order this book.