Athlumney Castle, County Meath
Tower houses often provided the nucleus for the unfortified country seats that began to emerge in Ireland from the seventeenth century. Many remain occupied to the present day, but Athlumney, on the east bank of the Boyne, has long been in ruins. It comprises a mid-fifteenth-century tower house, built by the Dowdall family, which was considerably enlarged around 1630 by a long, narrow gabled mansion with large mullioned windows and a fine oriel window. The tower house has four storeys, with an attic and four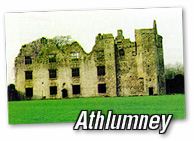 projecting corner turrets of different sizes containing the stair, latrines and small chambers. In the south wall of the first floor there is a secret mural chamber reached down narrow stairs from above - created, one assumes, to hide priests, for the Dowdalls remained strong Catholics.
The mansion was burnt in 1649 as "one of ye families of ye Maguires was living in it when Oliver Cromwell took Drogheda and to prevent Oliver from getting any shelter or subsistence there, set ye stately fabric on fire which consumed all ye curious apartments which were said to be very rich and costly".
Located 1 mile SE of Navan off the Duleek (L5) road.
NGR: N 887664.
National Monument
Key obtainable from the convent.