Harry Avery's Castle, County Tyrone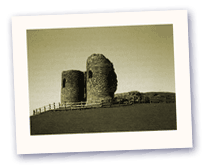 A curiously enigmatic castle named after and possibly built by Henry Aimbreidh O'Neill, a Gaelic chief celebrated by the Four Masters for his justice, nobility and hospitality who died in 1392. The castle commands wide views over the Mourne Valley and is unusual in being a stone-built stronghold located deep in the heart of pre-Plantation Ulster. It consists of a two-storey rectangular block fronted by a pair of massive D-shaped towers - resembling a gatehouse - projecting from the south face of an artificially scarped knoll, whose sides have been revetted by a wall to form a polygonal enclosure, now ruined to a low level with traces of a latrine tower on the north side. Excavations in 1950 and 1962 confirmed that the keep-like structure functioned more as a tower house than as a true gatehouse, though the only access into the enclosure behind seems to have been up a narrow mural stair and through the hall at first-floor level. The entrance has a draw-bar slot, while other features include vaults with traces of wickercentering and latrine shafts in one of the towers.
The castle was captured by the English in 1609. Subsequently, it was used as a quarry for building material.
Located three-quarters of a mile SW of Newtownstewart in a field off the Rakelly road.
NGR: H 323852.
State Care Monument.
Open access.