Bunratty Castle, County Clare
The fashion for renovating castles and using them to host "medieval banquets" may be said to have begun at Bunratty, which was restored in the 1950s under the brilliant guidance of Percy le Clerc and filled with Lord Gort's magnificent collection of medieval furniture and tapestries. It is now one of Ireland's main tourist attractions and justifiably so - for no other castle gives a more lasting impression of later medieval life.

The castle once stood on an island in a tidal creek with a view of the water-traffic entering and leaving the port of Limerick. Not surprisingly for such a strategic site, it has had quite a stirring history with a succession of castles from 1251 onwards. The present building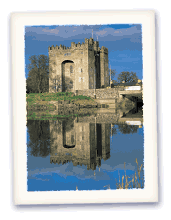 was erected between 1450-67 by the MacNamara or MacConmara family and passed through marriage to the O'Briens c. 1500. It was remodelled by Donough O'Brien, the "Great", (fourth) Earl of Thomond, who succeeded in 1581.

Although of great size, the castle is essentially a tower house. It comprises a tall, oblong building with a square tower at each corner, linked on the north and south sides by a broad arch rising to below the top storey. The entrance door leads into a large vaulted hall above which is the magnificent great hall with its lofty timbered roof where the Earls of Thomond held court. While there are only three storeys in the main body of the castle - with vaulted cellars below the hall - the towers have many floors and small chambers approached by a profusion of winding mural stairs. Many were bedrooms with connecting latrines, the castle having no less than fifteen privies. The fourth Earl remodelled the upper rooms of the towers; his vaulting still survives in one tower and is among the earliest use of brick in the country. Some of the Earl's plaster decoration remains in the hall, chapel and south solar and may be considered among the oldest stucco known in Ireland.

The castle's grandeur greatly impressed Archbishop Rinuccini who came here in 1646 and wrote of its great beauty, its ponds and 3,000 head of deer. But the property suffered during the seventeenth-century wars, and the O'Briens departed. It was acquired by the Studderts around 1720, who occupied a brick house built against the two northern towers and later built themselves a fine country house in the park. The castle was later used as a police barracks but subsequently fell into disrepair, and towards the end of the nineteenth century the roof of the great hall was allowed to collapse. It was acquired by Lord Gort in 1954 and since his death the castle and its contents have been held in trust for the Nation.

Located 8 miles W of Limerick on the airport road (T11).
NGR: R 452610. National Monument. Open daily throughout the year.
The Folk Park, which includes eight farmhouses, a village street, a mill and a blacksmith's forge, remains open until 7.00 pm from June to August.
Admission fee charged.