Cahir Castle, County Tipperary
Superbly set on a rocky island in the River Suir, this impressive fifteenth-century castle - the largest of its period in Ireland - was considered impregnable until the advent of heavy cannon. Described by one Elizabethan commentator as "the bulwark for Munster and a safe retreat for all the agents of Spain and Rome", it fell to Devereux, Earl of Essex, in 1599 after it had been battered for two days with artillery. It surrendered without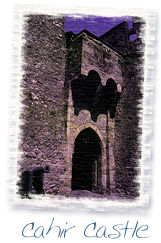 a fight to Inchiquin in 1647 and again to Cromwell in 1650, but otherwise had a notably undistinguished history, which possibly helps to explain why it survives in such remarkably good condition today.
Making excellent use of the rocky terrain, its layout comprised a series of courts - an inner, middle, outer and barbican - which cleverly served as a successive line of defence, so that each ward or court dominated the one out side. The core of the castle, the inner ward, lies at the north end on the highest part of the island. It is surrounded by very thick curtain walls, the lowest parts of which belong to the original fortress on the site that was built by Philip of Worcester in the thirteenth century, after he moved here from the motte at Knockgraffron, three miles north. The massive wall-footing across the middle ward marks the south perimeter of this early castle, while the large adjacent building, known as the keep, originally served as the gate house, with a passage through the centre flanked by guard chambers. After this was converted into the main residential block of the castle in the fifteenth century, the gate was moved alongside, possibly with its original arch. The double machicolation over this entrance is largely an 1840s reconstruction, but the adjacent round tower, which served as a prison, may also have thirteenth-century foundations.
The present castle appears to be largely the work of Seamus Gallda (James the Foreigner), ancestor of the Butlers, Barons of Cahir. After the death of his father, the third Earl of Ormonde, in 1405, James Butler made Cahir his principal seat and embarked on a building programme This work was continued by his successors during the fifteenth and sixteenth centuries. By 1599 the castle had reached its present appearance when illustrated in Pacata Hibernia. The only subsequent alterations took place in the 1840s when Richard Butler, the thirteenth Baron Cahir, restored the castle and replaced the picturesque Irish battlements with more solid English ones. The great hall on the east side of the inner ward was also rebuilt at this time though its original form extended much further south indeed, the main fireplace now lies outside in the open.
The Butlers ceased to occupy the castle in the eighteenth century and built a house in the town, now the Cahir House Hotel. In the 1860s they erected a mansion, Cahir Park, in the magnificent parkland which adjoins the old castle.
Located in the town. Access is through a modern gateway from the road bridge.
NGR: S 048248.
National Monument.
Admission fee charged.
Guided tours on request..