Dunsoghly Castle, County Dublin
Considering the enormous number of castles in Ireland, it is perhaps surprising that only Dunsoghly has retained its original medieval trussed roof. This has survived because the castle, built around 1450 by Sir Rowland Plunkett, Chief Justice of the King's Bench, was continuously occupied until the 1870s by descendants of the same family, despite being cramped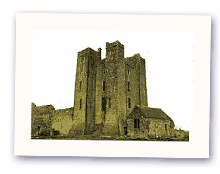 and uncomfortable by post-medieval standards. The lofty four-storey tower of the castle has tapering corner turrets rising above the parapet. The stair occupies the north-east turret, while the others contain vaulted rooms, one of which ñ the topmost chamber of the south-west turret ñ was used as a prison and is only accessible through an opening in the vault above it. The roof, which has served as a model for restorations at Bunratty Castle and Rothe House, Kilkenny, is arch-braced with four oak principals; on each collar-beam stands a king-post supporting a purlin and cross-pieces below the ridge. The rafters are laid flat rather than on edge as in modern roofs and the framework covered with split laths.
There is a small chapel to the south bearing the year 1573 over the door, the Instruments of the Passion and the initials of John Plunkett and his wife Genet Sarsfield. On the west and south are remains of earthwork defences put up during the warfare of the 1670s.
Located 2.5 miles NW of Finglas off the Slane road (N2) between Kilshane Bridge and Pass if You Can. NGR: O 118430. National Monument.