Gleninagh Castle, County Clare
Looking down from a hillside across the wide expanse of Galway Bay, this well-preserved sixteenth-century tower house stands guard over the northern shoreline of the Burren. It has a distinctive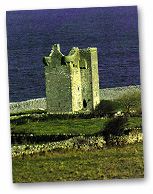 L-shaped plan comprising an oblong tower of four storeys with a projecting turret con taining a spiral stair. The entrance doorway, which may have been moved from elsewhere, lies at first-floor level with a protecting machicolation high above in the turret. Striking round bartizans are present on three corners of the main tower, while an attic in its roof was contained behind gables on all four sides. The third storey is vaulted and there is another over a dark basement, which may have been used as a prison. In the end wall a number of window embrasures were later blocked for fireplaces.
The castle was built for the O'Loughlins (O'Lochlainns), who were still resident in the 1840s. It remained occupied until the 1890s.
Located 3 miles NW of Ballyvaughan off the coast road to Lissdoonvarna (L54).
Access down a lane and across a field.
NGR: M 193103.
National Monument.