Kilkenny Castle, County Kilkenny
Superbly set above a crossing of the River Nore, this great Norman castle has undergone many alterations over the centuries. Strongbow built a castle here as early as 1172 but this structure was destroyed by Donald O'Brien, King of Thomond. It was rebuilt in stone between 1204 and 1213 by Strongbow's son-in-law and successor, William Marshall, Earl of Pembroke. The shape of his superb "keepless" castle - built to a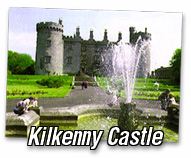 trapezoidal plan with massive drum towers - has been largely preserved despite the many subsequent reconstructions. Excavations in 1991-92 revealed that the original foundations on the north-west and south-west sides truncated the bank enclosing the bailey of the pre-stone castle - indicating that Strongbow's fort determined the basic outline of Marshall's fortress.

After the death of Earl Marshall, the castle was assigned to his eldest daughter, Isabel, and passed through her to the Despencers, who did not reside in Ireland. Parliament often met in the castle during the fourteenth century, which in 1307 comprised "a hall, four towers, a chapel, a motte, and divers other houses necessary to the castle". In 1391 it was sold to the Butlers, Earls of Ormonde, who after the Restoration of 1660 carried out a major rebuilding of the old castle, after it had been damaged in Cromwell's siege of 1650. Except for the classical-style gateway of 1703-06, the whole castle was again rebuilt during the 1820s in an uncompromisingly feudal-revival style by William Robert son for the first Marquess of Ormonde. In 1859-62 the picture gallery was remodelled and the castle given a number of Ruskinian features, notably a Gothic staircase. In 1935 the Ormondes ceased to live in the castle and presented it to the nation in 1967.

Located within the city of Kilkenny. NGR: S 509557. National Monument. Open daily. Guided tours available. Art gallery and restaurant in basement. Admission fee charged.