Lemaneagh Castle, County Clare
The magnificent ruins of the great O'Brien stronghold of Lemaneagh stand on the southern fringe of that limestone wilderness known as the Burren. It is a lonely place, some call it bleak, and perhaps a surprising location for a splendid four-storey, high-gabled, early seventeenth-century mansion with rows of large mullioned and transomed windows. The early part of the building at the east end is, by contrast, a rather grim five-storey tower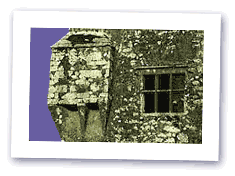 c.1500, with narrow slit openings for windows, a tier of small chambers and a spiral stair. Its entrance passage, with drawbar holes for inner and outer doors, was probably later reserved for servants, as the gabled mansion had its own front door. Indeed, this mansion, which clearly replaced an earlier hall block on the site, is likely also to have had its own timber stair for access to the living rooms on the first and second floors, as the kitchen and offices were on the ground floor.
Defensive features connected to the later mansion appear to be few; there is a low-hung bartizan on the corner and a wing with wall-walk on the opposite side. However, it is no longer readily apparent that the building was once surrounded by a walled bawn with a projecting defensive parapet. This was entered through a fine round-headed gateway with heavy corbels and two coats of arms, one the quartered bearings of Conor O'Brien, 1643, and the other those of his son Sir Donat O'Brien, 1690. An inscription states that it was "built in the year 1643 by Conor O'Brien and by Mary ni Mahon, wife of the said Connor". Sadly, this gateway was moved in recent decades to Dromoland where it stands in the walled garden.
The castle was first mentioned in 1550 when it was granted to Donough O'Brien, Lord Inchiquin, who was hanged in 1582. It passed to the Dromoland O'Briens and by the 1630s had been inherited by Conor O'Brien, whose wife was the formidable Maire Rua (Maire ni Mahon), about whom there are many tales. It is said that she hung her disobedient men servants by the necks and her maids by the hair from the castle's corbels and used to accompany her husband on raids upon English settlers. When Conor was killed in a skirmish with Ludlow's army in 1651, she is said to have refused to open the gates to receive her stricken husband, declaring, "We need no dead men here", but having found that he was still alive nursed him until his death a few hours later. Ludlow later stayed in the castle for two nights, but found the November weather so foul that he retreated back to Limerick. It was probably during this time that Maire Rua obtained permission to marry one of his cornets, by the name of Cooper, thus managing to preserve the inheritance of her ten-year-old son, Sir Donat O'Brien, ancestor of the present Lords of Inchiquin. Sir Donat later embellished the extensive walled gardens at Lemaneagh, adding a canal and tree-lined avenues, but around 1705 abandoned the place for Dromoland where he died in 1717. The castle quickly became a ruin with its lower windows and doors blocked to prevent access. These windows have now been replaced, but one of Lemaneagh's fine fireplaces still remains in the Old Ground Hotel at Ennis.
Located 3 miles E of Kilfenora on the Carran/Ballyvaughan Road (L51). The site can only be seen over the low roadside wall, as the land-owner is presently preventing access to visitors.
NGR: R 233937.
National Monument.