Newtown Castle, County Limerick
Like a rocket on its launch-pad, this unusual sixteenth century tower house takes the form of a cylinder impaled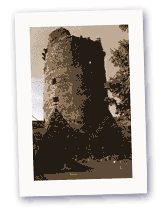 upon a pyramid. The whole base of the wall between the four boldly projecting spurs is commanded by shotholes ingeniously placed in the apex of pointed notches at the fusion of the cylinder and pyramid.
One of these notches, or ghost-gables, lies over the door which is also commanded by one of four machicolations projecting from the parapet. Internally, the tower has five storeys with dome vaults over the ground and third storeys, both of which have well-preserved impressions of wickerwork matting. The hall on the fourth storey has mullioned windows with the spiral stair projecting into the room. The top floor, originally a bed chamber, has now been incorrectly restored as a gallery, presumably so that visitors can admire the new conical oak roof.
The castle was originally built by a sept of the O'Briens and later passed into the hands of the O'Loughlins (O'Lochlainns) - self-styled "Princes of the Burren". It was still inhabited by the family at the end of the nineteenth century, but later fell into ruin. In 1993-4 the castle was restored as an exhibition centre for the adjacent Burren Art College.
Located 1.5 miles SW of Ballyvaghan to W of the Lisdoonvarna road (T69). Access up a quarter-mile tarred lane. Signposted. NGR: M 217064.
Open all year: 10:00 am - 6:00 pm. Admission fee charged.