Rathmacknee Castle, County Wexford
Many Irish castls have lost their parapets during the course of time, but those at Rathmacknee are fully intact and are a superb example of the picturesque multi-stepped crenellations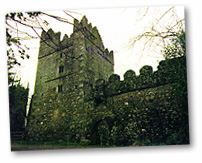 so characteristic of late medieval Irish archi tecture. Other features of the castle have survived equally well, and although now lacking its roof and floors, it may be considered one of the most complete examples of a tower house in South Leinster.
The tower occupies the south-east corner of a well preserved five-sided bawn that has a boldy projecting machicolation above the entrance. In plan the tower is a simple rectangle with one small projection - a prolongation southwards in the east wall to accommodate latrines.
There is a mural stair linking all five storeys, each having one apartment with closets or chambers in the thickness of the wall. The two lower storeys are beneath vaulting, while the timber floors had cross beams that were tenoned directly into the wall beams rather than laid directly upon them - an unusual practice that allowed the depth of the floor to be reduced.
It is probable that the castle was built by John Rossiter, Seneschal of the Liberties of Wexford in 1451, whose fami ly had lived in this area since the late twelfth century. Though staunch Catholics, they survived the Reformation purges, but ultimately forfeited their lands in the 1650s. The castle remained occupied until the 1760s.
Located 7.5 miles SW of Wexford town, Iying down a lane, off a minor road, due W of the main Kilmore road. Signposted.
NGR: T 037143.
National Monument. Key obtainable from Patrick Kavanagh in the modern house situated in the bawn.