Annes Grove, County Cork
The Walled Garden, formerly devoted to kitchen produce, was transformed by Richard Grove Annesley in 1907 into a large ornamental garden. He laid a path across the allotment, focusing upon a Victorian summer house that stands on a mound, and along this path made a lovely double herbaceous border backed with yew hedges. In fact, the building is off-centre from the path-a miscalculation that is concealed by the presence, at the end, of a pair of Lawson cypresses (Chamaecyparis 'Erecta Viridis'). The creation of this path, which crossed the old axial path through the garden, helped to divide the area up into a number of separate compartments ñ each developed individually by Grove Annesley. Within these compartments he created a small rose garden, the box-edged 'Ribbon beds' filled with annuals ñ notably mixed petunias, a pergola with vines, honeysuckle, clematis and rambling roses-and a series of borders containing perennials and shrubs. The most astonishing feature here, however, is the Water Garden. Laid out around a serpentine pool, it proffers a wealth of aquatic and marginal plants: hostas, rodgersias, libertias, sagittarias, nymphaeas as well as irises, astilbes and bergenias-all contributing to an almost tropical atmosphere in this secluded part of the garden.

From the wild garden in miniature, the visitor proceeds on to the rather larger, wild Woodland Garden. This is approached along the Dublin Drive, laid down in 1854, where the elegant white-flowering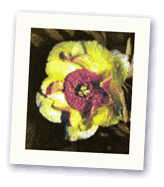 dogwood Cornus kousa chinensis flourishes. It has been suggested that this shrub may be one of the original introductions of the plant from China in 1907. Further down the drive, passing honaria, pieris and Myrtus apiculata shrubs, the visitor enters the Rhododendron Garden which was begun in 1906 when Grove Annesley discovered an area of acidic soil. Most of the rhododendrons are species rather than hybrids and many come from seed introduced from China and the Himalayas by Kingdon Ward. They range in size and colour from whites to blues to reds, with many fine R. cinnabarinum and R. griersonianum. From the Woodland Garden there is a winding path down into the gorge, passing fine specimens of Wilson and Watson magnolias, a drooping Juniperus recurva 'Castlewellan' and a large Azara microphylla, one of a number of fine azaras intermixed with rhododendrons in these woods.
The Water Garden in the gorge was begun in 1902 when Richard Grove Annesley employed a battalion of soldiers from the nearby barracks of Fermoy to divert the Awbeg River so that it flowed closer to the house. They created an island, built weirs and rapids and later constructed bridges to span the river. Statuesque conifers were planted in the glen and screens of bamboo encouraged by the waterside together with gunnera, day lilies, polygonums, phormiums, rodgersias and astilbes. Among the primula cultivars that line the riverside walks is a huge bed of Primula florindae. This giant cowslip variety, with large heads of pendant, bell-shaped, sulphur-yellow flowers, was introduced by Frank Kingdon Ward in the 1920s and named after Richard Grove Annesley's wife, Florinda. It remains one of the showpieces of this quite remarkable garden.
Located 10 miles north west of Fermoy and 2 miles north of Castletownroche. NGR: R 682048. Open Spring to Autumn, weekdays and Saturdays. Groups by appointment at any time. Lunches by special arrangement. Picnics. Partly suitable for wheelchairs. Dogs on lead.