City of Belfast International Rose Garden
By the seventeenth century, roses were extensively grown in almost every European garden. Three hundred years later they remain firm favourites and nowhere more so than in Ulster - the home, for over a century, of two world-famous breeders: Dickson's of Newtownards and McGredy's of Portadown. It was in celebration of their achievements that the City of Belfast International Rose Garden, with its spectacular display areas, historical sections and trial beds, was established in the attractive setting of Wilmont - a landscape park of 128 acres on thc east bank of the River Lagan.

An international rose trials ground was first set up at Wilmont (now known as Sir Thomas and Lady Dixon Park) between 1964 and 1965 with the backing of local government and the assistance of the newly-formed Rose Society of Northern Ireland. The Rose Garden area, maintained by the Bclfast City Council Parks Department, evolved gradually over the years and by the 1980s covered eleven acres, with over 20,000 roses in rectangular trial beds and larger display areas. Much of the present layout belongs to a major redevelopment of the garden that took place between 1986 and 1987.

The best time to visit the garden is during Belfast Rose Week in mid-July - the period which coincides with the final judging of trial roses. The entrance approach into the garden is flanked by beds containing trial winners, while to the left a massive floribunda display covers the hill. Beyond an undistinguished stone arch lie most of the trial beds, which are regimented into a series of concentric circles and spread over the northern part of the garden. More rings of display beds are paraded in the central area of the garden and among these is a section devoted to the roses bred by the McGredy and Dickson family firms.

The McGredy nursery business has produced a virtually unbroken series of floribundas, hybrid teas and climbing roses since 1895 and among their numerous award-winning successes visitors will find such familiar cultivars as 'Mischief', 'Evelyn Fison', 'Uncle Walter', 'Picadilly' and 'Molly McGredy'. Since 1972, Sam McGredy (the fourth) has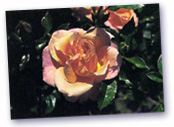 continued the tradition in New Zealand, but the Dicksons are still based in Ulster where they have been breeding roses since 1879. It is this family who have given us such famous roses as 'Crimson Glory', 'Shot Silk', 'Innisfree' and the famous 'Grandpa Dickson'. Today the Dickson family mostly produce floribundas, patio roses and shrub roses, rather than the classical hybrid roses of the past.
A display garden tracing the history of the rose can be found close to Wilmont House. It is laid out in the form of a spiral path, with the oldest roses on the outside leading to modern hybrid roses in the centre.
Other attractions of the park include an international camellia trials ground south west of the house. The trials usually take place in early April and the camellias may be found inside and outside the east side of the Walled Garden. The park also contains some fine trees, a selection of azaleas and rhododendrons, an ice house, a yew walk and an attractive bamboo walk. West of the latter lies a Japanese-style garden.
Located 11/2 miles south east of Dunmurry on the Upper Malone Road, Belfast.
NGR: J 307677. Open daily, all year. Refreshments available in stables. Toilet facilities. Suitable for wheelchairs. Dogs on lead. Admission: free. Best season: April to August