Butterstream, County Meath
Some gardens offer an exciting journey of discovery, slowly unfurling their secrets and charms to the visitor. Butterstream does not at first give the impression of being a sizable garden, but gradually reveals itself through a series of interlinking compartments, each devoted to different arrangements of plants. There is a rose garden, a white garden, a wild garden, an herbaceous garden, a pool garden and many others, all containing wonderfully controlled masses of flower and leaf forms hidden away by neatly clipped hedges and leafy screens.

Although the garden has a venerable appearance, Butterstream only began life during the 1970s when Jim Reynolds started to transform the farmland between his family home and the adjacent stream. As an archaeologist based in Mullingar, Reynolds could devote only evenings and weekends to the task but still managed by his own efforts to reclaim two and a half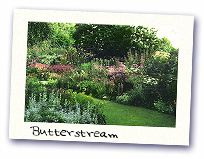 acres of heavy limestone clay in this dank part of Ireland into a remarkable garden in the tradition of Hidcote and Sissinghurst - fulfilling Vita Sackville West's ideal of 'the strictest formality of design, with the maximum informality in planting'.
The first area to be created was the Rose Garden - a long rectangular compartment with beech surround and box-hedging flanking beds each side of a central path. The box-hedges are clipped higher than one might normally expect as the roses are old-fashioned varieties whose lanky legs need to be hidden. This large collection includes many varieties of Gallica, Damask, Bourbon, Alba and moss roses that Jim Reynolds has collected over the years from garden centres, old gardens and even roadside verges. Among these is the vigorous moss rose 'Gloire des Mousseux' and the late nineteenth-century hybrid perpetual 'Souvenir du Dr Jamain', discovered by Vita Sackville-West in an aban doned corner of a nursery in the south of England and later brought into cultivation.
Beneath the roses, lilies, crinum, nerine and clematis have been planted to extend the season of the garden. From here a path leads into a smaller adjacent compartment - the White Garden - another early feature of the layout. It too has paths bordered by neatly clipped boxwood hedges and these contain white forms of agapanthus, delphiniums, astrantias and cam panulas, as well as green-and-white striped reed Canary grass, white Clematis recta and a tall but elegant meadow rue (Thalictrum delavayi). In the corner an attractive round tower with sprocketed roof, resembling for all the world an ancient dove-cote, has recently been built as a look-out over the garden. Close by the path has been lined with white petunias, many trailing freely out of large clay pots and making a glorious impact in late summer.
> > > Read the concluding part of this article