Glenveagh National Park, County Donegal
The rugged Donegal highlands may be one of the bleakest places in Ireland, but in a secluded valley beside a mountain lough is a most remarkable garden. Laid out around the operatic setting of a baronial castle, this ten-acre garden comprises formal and informal areas with a wealth of vegetation, almost tropical in its luxuriance and brimming with rare and tender plants.

The garden was begun in the 1870s by Mrs Adair, a rich American heiress, following the construction of Glenveagh Castle on a bare hillside. After her death in 1929 the property was acquired by Mr Kingsley Porter, Professor of Art at Harvard, and later in 1937 by another American, Henry P. McIlhenny, once described by Andy Warhol as 'the only person in Philadelphia with glamour'. Although he only spent three months at Glenveagh each year, McIlhenny invested huge sums improving and enlarging the garden, much of it following the advice of the landscape designer Lanning Roper and the great plantsman James Russell. Most of the major work was finished by 1967, but McIlhenny continued to introduce new plants until 1983 when he gave the castle and its garden to the nation to form the centre-piece of a 28,000-acre National Park that had been established in 1975.

Tantalising glimpses of the castle greet the visitor along the winding lough shore road from the heather-roofed reception centre. The journey is two miles and should be walked for a full appreciation of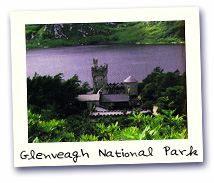 Glenveagh's magnificent landscape setting. The starting point of a walk around the gardens, however, must begin with the Pleasure Ground to the north of the castle. This comprises a broad sweep of level lawn with bordering trees and shrubs planted to resemble the shape of the adjacent lough.
The large tree rhododendrons and Scots pine, planted over a century ago, provide the area with shelter and help to create a micro-climate that is suitable for growing a range of tender plants. Among these are some large examples of the tree fern Dicksonia antarctica. The condition favours rapid growth and visitors may note a tall Pseudopanax crassifolius from New Zealand (planted in 1971) and a large and very beautiful Magnolia tripetala. Along the lawn edges are drifts of astilbes, alchemillas, candelabra primulas, agapanthus and meconopsis, in addition to azaleas, Olearia semidentata, Michelia doltsopa and Lomatia hirsuta. There are also Japanese maples, notably an exceptional specimen of Acer palmatum 'Atropurpureum'.
Colour is all important. One of the border shrubs in the Pleasure Garden, Senecio greyi, was planted by McIlhenny for its lovely grey foliage - he hated its yellow blooms which he had removed each year. Nearby a mass of white arum lilies (Zantedeschia aethiopica) grow beneath a pink Rhododendron kyawi, both of which flower at exactly the same time providing a wonderful colour contrast in early summer. Not all the blossom is confined to the border edges - visitors leaving at the head of the garden should remember to look up to see the myriad blossoms of the snowdrop tree, Styrax japonica.
Running above the Pleasure Garden to the Walled Garden is the Belgian Walk, laid down in 1915 by Belgian soldiers who were convalescing here during the war. Giant-leaved rhododendrons thrive in this area, along with delicate varieties of R. edgworthii and the white-scented R. 'Lady Alice Fitzwilliam'. A stone-flagged Italian terrace along this walk comes as a surprise. Although only built in 1966, it has an air of timeless serenity with its antique Italian sculpture and massed terracotta pots of various sizes planted with Ghent azaleas and hostas.
The formal Walled Garden beside the castle provides a striking contrast to the informal planting elsewhere. It is divided into squares and contains, in addition to herbaceous borders, a mixture of fruit, vegetables and flowers in the jardin potager style. The vegetables, many of which are grown for their foliage, are planted in bold and clearly labelled blocks. At the lower end clipped box hedges lead to the frame of a fine Gothic orangery erected to a design by Philippe Jullian. The herbaceous borders contain fairly traditional plants - yellow loosestrife, lamb's ears, catmint, phloxes, delphiniums, irises and geraniums.
A flight of steps from the potager cross-path leads to the View Garden and the Swiss Walk both of which offer lovely vistas of the landscape beyond the gardens. From here a path reaches the castle terrace and the Italian Garden - a rectangular grass enclosure with tightly clipped griselina hedges and a pair of Acer pseudoplatanus 'Leopoldii' shading statues.
There is much else to see at Glenveagh and visitors will probably want to spend the whole day here even if it is raining. It's sad that parts of this enchanting garden are closed to the public, including the astonishing, almost vertical stone staircase of sixty-seven steps leading to the upper terrace and overlooking the lough and distant mountains.
Located 15 miles north west of Letterkenny, outside of Churchill. NGR: C 021210. Open daily, Easter to last Monday in October, Sundays in June, July, August. Other times by arrangement. Access to garden by OPW minicoaches only. Parking at Visitor Centre. Refreshments and meals available. Toilet facilities. Admission fee.