Heywood, County Laois
In 1906 the famous English architect and garden designer Sir Edward Lutyens (1869-1944) was com missioned by Colonel Hutcheson Poe to design a garden for his grand Georgian house at Heywood where decades previously the Empress Elizabeth of Austria had been entertained. Work began in 1909 and continued until late 1912, while a planting scheme was prepared for the borders in 1910 by Gertrude Jekyll. Heywood was sold to the Salesian Fathers in 1941 who established their Missionary College here, but in 1950 the house was accidentally burned down and subsequently demolished. The garden remained, its structure gradually decaying until 1985 when a restoration programme was undertaken on its walls and ornaments. A plan to restore the planting in Jekyll's style (her original plans were lost) was prepared by Graham Stuart Thomas - this has been partly implemented with voluntary help and will now be continued by the Office of Public Works who has recently taken over the care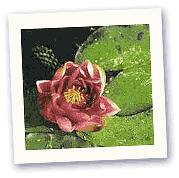 of the gardens along with the demesne's eighteenth century lakes and woodland.

The garden is reached at the end of a long avenue that winds through an elegant landscape park laid out during the 1770s in the romantic-poetic tradition. Passing a Gothic folly made from stonework stolen from a local friary, the visitor arrives at the site of the old house - sadly now a car park set in front of an unappealing modern building. The garden lies just below the south side of the car park and is composed of three separate elements linked by a terrace that once fronted the house.

Visitors enter the garden through a series of small compartments or 'garden rooms' planted with herb aceous plants and delimited by clipped yew hedges. From here a curving staircase leads down into a large elliptical garden where three terraced borders drop to a central oval pond encircling a large stone fountain. At the east end stands a pavilion with a steep pantile roof, while at the opposite end an elegant gateway leads into an alley of pleached limes. Beyond this lies a large flat terrace with a lawn and borders that were once overlooked by the house windows. At the far end of this lawn a flight of steps arrives at a pergola terrace, whose oak beams are supported by Ionic columns taken from one of the eighteenth-century follies in the park. The pergola was once wreathed with wisteria and roses, while narrow flower beds between the columns contained fuchsias and hydrangeas. Now only cascades of Clematis tangutica grow here, but the views of the park and its lake below are quite lovely and a fitting climax to this splendid garden.

Located 3 miles from Abbeyleix, just outside Ballinakill. NGR: S 472817.
Open daily, May to August. Partly suitable for wheel chairs. Dogs on lead.
Admission charged.