Ilnacullin Gardens, County Cork
Celebrated gardens rarely live up to their reputations so effortlessly as Ilnacullin, alias Garinish - an enchanted garden island lying in a sheltered inlet of Bantry Bay. Blessed with spectacular sea and mountain scenery as well as a balmy climate brought by the equatorial waters of the Gulf Stream, this thirty-seven-acre island has a seductive mixture of formal and informal gardens, superbly filled with a rich and wonderful variety of plant forms and colour.

Ilnacullin, the 'island of holly', was no more than a barren rock covered with furze and heather, surmounted by a Martello tower, when it was purchased in 1910 from the War Office by John Annan Bryce (1874-1924),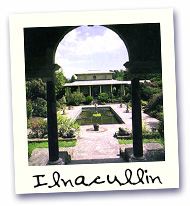 a Belfast businessman and Scottish MP. Bryce commissioned the English architect and horticulturalist Harold Peto (1854-1933) to design a garden on the island. From 1911 to 1914 over one hundred men were engaged in moving soil, blasting rocks, planting trees, laying paths, as well as building a walled garden, a tall clock tower and a wonderful Italianate garden complete with casita, pool and pavilion. Peto's used of Italian Renaissance architecture and his adaptation of the picturesque formal style of gardening, made popular by the famous Lutyens and Jekyll partnership, proved to be brilliantly successful in this island setting, although it was nearly a generation later before his work would be fully appreciated.
Strong winds damaged much of the early planting and it was not until the outstanding Scottish gardener Murdo Mackenzie was put in charge of the garden in 1928 that the problem was solved. Mackenzie successfully established shelter belts, mostly Scots and Monterey pine, and then proceeded to build up the splendid collection of rare and tender plants for which the island is now famous. After ownership of the island passed from the Bryce family to the Office of Public Works in 1953, Mackenzie remained in charge, retiring in 1971. His remarkable work at Ilnacullin stands as one of the great success stories of Irish horticulture.
Boats bring visitors to sample the delights of Ilnacullin pass basking seals on the journey and arrive at the north side of the island. The route from here up to the Italian gardens winds past some outstanding plants. Of particular note is a tall and attractive example of the pendulous Australian wattle (Acacia pravissima). On the left is a fine Crinodendron hookeranum whose long crimson lanterns hang thickly from its branches in summer, while opposite an Abutilon 'Ashford Red' with glorious strawberry-red flowers must be the envy of most visiting gardeners. Also from Chile is a fine specimen of Desfontainea spinosa, which some may mistake for holly were it not for its striking orange-yellow tubular flowers. Close by a hardy but rare Chinese shrub (Stachyurus chinensis) branches out, while also along this path, amidst a variety of magnolias, camelias and fuchsias, is a fine specimen of the tender Kauri pine (Agathis australis) with its exotic-looking thick-spreading branches.
> > > Read the concluding part of this article