Lismore Castle Gardens, Co. Waterford
In the turbulent centuries preceding the reign of Charles II most substantial Irish gardens were protected behind walled or embanked enclosures adjacent to a house or castle. The Upper Garden at Lismore is a splendid surviving example of such an early garden - notable not only for its impressive walls, turrets and terracing but also because it has remained in continuous use for over three-and-a-half centuries. Its appeal is perhaps increased by the tradition that Spencer wrote part of his Faerie Queen here.

The gardens are entered through an outer gatehouse known as the Riding House, built in 1631 to provide accommodation for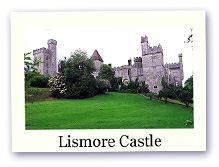 mounted horsemen. The old Upper Garden lies to the left of the avenue and occupies a large rectangular area on two terraces. Its surrounding walls were built in 1626 by Richard Boyle, the Great Earl of Cork, a remarkable Elizabethan adventurer who had acquired the castle from Sir Walter Raleigh in 1602. In his diary he records payments by his mother 'for compassing my orchard and garden at Lismore with a wall of two and half feet thick and fourteen feet high of Iyme and stone and two turrets at each corner' and later recorded paying for 'digging, mowing and laying my terrace with paved, hewn stones in all over one hundred and six feet'.
Visitors are greeted in the garden by newly planted fruit trees covering part of the area once occupied by the Great Earl's orchard. A central walk between herbaceous borders backed by clipped yew hedges passes through the lower terrace in dramatic alignment with the cathedral spire. This leads to the upper terrace where there are large areas of vegetables. At the north west end lies a ridge-furrow greenhouse designed by Sir Joseph Paxton in 1858, while in the south-west corner, providing excellent views of the surrounding landscape, a tower looms.
The staircase to the Riding House links the Upper Garden at Lismore with the Victorian pleasure grounds known as the Lower Garden. This area was created around 1850 by the sixth Duke of Devonshire (1770 1858), known as the Bachelor Duke, whose family had inherited Lismore in 1748 when the fourth Duke married Lady Charlotte Boyle, the only daughter and heiress of the fourth Earl of Cork. The principal feature of this garden is an ancient yew walk said to have been planted in 1707 perhaps as an avenue to one of the town houses which formerly occupied the area. The surrounding lawns contain an interesting collection of spring-flowering shrubs, notably camellias, magnolias and rhododendrons including some extremely old specimens of R. barbatum, R. campanulatum, R. thomsonii and R. falconeri - possibly planted during the time of the Bachelor Duke. Many improvements have been made to Lismore in recent decades by the present owner, Andrew Cavendish, the eleventh Duke of Devonshire, and visitors will not be disappointed.
Located in the town of Lismore; NGR: X 043987. Open daily, May to September. Admission charge.