Mount Stewart, County Down
Great gardens are often the achievement of one outstanding creator and none more so than at Mount Stewart. When Edith, Marchioness of Londonderry, first arrived at Mount Stewart in 1921 she found a dank and gloomy scene around the late Georgian classical house and immediately determined to effect a complete transformation. She succeeded and created a distinctive formal and informal garden with an incomparable plant collection whose youth is disguised by the exceptionally high humidity from the sea.

Lady Londonderry's work on the gardens was aided by the ample labour force available after the Great War, while much advice was forthcoming from such eminent gardeners as Sir John Ross and Gertrude Jekyll. The staggering range of plants she used came from nurseries throughout the Empire, while she corresponded with plant collectors Clarance Elliott George Forrest and Frank Kingdon Ward. Her approach was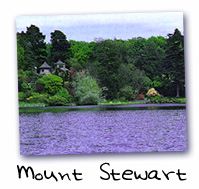 to try to grow as many rare and tender plants as possible, especially those giving a tropical effect. Ultimately her woody plant collection was dominated by southern-hemisphere species, with the Australian taxa remaining the most important. On her death in 1959, she left behind a garden of seventy-eight acres comprlsing formal garden areas, terracing, pergolas, pavilions, woodland gardens and a water garden encircling a large lake in the park. Today it is generally acknowledged as one of the greatest gardens in western Europe and is maintained in splendid order by the National Trust who assumed control of the property in 1955. Indeed over the past twenty years under the present head gardener Nigel Marshall, direct seed acquisition from America and Australia has again become an important feature of this garden.
Undoubtedly the most important genus at Mount Stewart is the eucalyptus. Today there are no less than eighty plants of fifteen taxa in the garden - the oldest a mammoth specimen of E. globulus planted in 1894 on the Fountain Walk close to the car park. This species grows especially well at Mount Stewart, with some reaching a height of 120 feet. Indeed this garden probably has the most concentrated planting of E. globulus in northern Europe and everywhere their resinous scent fills the air.
Close to the Fountain Walk lies the Mairi Garden, a white-and-blue creation laid out in 1925. Beside the summer house overlooking this small garden is an enormous Cordyline australis, one of a number here. Cordyline is a speciality at Mount Stewart, with five taxa cultivated, and there are some exceptionally fine specimens of C. indivisa. Another important genus at Mount Stewart, Olearia, thrives here - notably groups of the larger type O. paniculata with their undulating foliage.
From the Mairi Garden a path leads up to the Dodo Terrace, built in 1925 and decorated with a range of amusing stone ornaments made by Thomas Beattie, a local craftsman, to Lady Londonderry's designs. This overlooks the Italian Garden - a large rectangular area below the south front of the house divided by a wide grassy verge into two identical parterres, the design of which was based on the south-western parterre at Dunrobin Castle, the home of Lady Londonderry's mother. The beds are edged with purple berberis and golden thuja and have a colour scheme ranging from grey-white and blue in the west to orange and scarlet in the east. Below this area visitors will discern a tall specimen of Chamaerops humilis, a fine example of the primitive New Zealand tree Phyllocladus glaucus, and a magnificent specimen of Sophora tetraptera, undoubtedly New Zealand's most beautiful tree.
> > > Read the concluding part of this article