Rowallane, County Down
There are few gardens anywhere in the British Isles that so successfully combine the artistic with the practical in such complete accord with their site as Rowallane. The impressive range of plants in this fifty-acre garden, notably its rhododendrons for which it is famous, have been skilfully grouped in the handsomely undulating site to create a charming, uncluttered effect that is as much a joy to the plantsman as to the artist. Although normally associated with spectacular spring-colour displays, Rowallane also has an extensive collection of summer-flowering plants, especially in the Walled Garden, while additional interest is provided by a large rock garden, a fine collection of trees and wildflower meadows.

The groundwork of the garden was laid down by Reverend John Moore following the completion of the house in 1861. It involved reclaiming a barren hillside of rock and gorse and creating a series of plantations, a walled garden and an extensive pleasure ground. Reverend Moore died in 1903 and bequeathed the property to his nephew, Hugh Armytage Moore, who was the man responsible for creating the gardens as we know them today. With his rare gift for planning and great eye for plants, he developed Rowallane using many of the novel plants of his day. Armytage Moore had close contacts with the Edinburgh Botanic Gardens among other places and raised many of his plants from seed collected by the great plant hunters of the early twentieth century, such as Wilson, Forrest and Kingdon Ward. He also developed a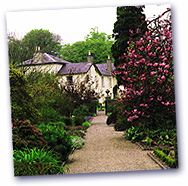 number of his own hybrids and was awarded the Victoria Medal of Honour by the Royal Horticultural Society in 1942 for his work. In 1955 the National Trust took over the running of his gardens, which are still maintained much as they were in Armytage Moore's time. The house is now the headquarters of the National Trust in Northern Ireland.
The avenue leading up to the house passes through much fine woodland, with arboreal rhododendrons and mossy rocks on either side and a series of idiosyncratic stone seats, cairns and ornaments built by Reverend Moore in the nineteenth century. From the car park visitors walk up to the house, passing the Home Wood where there are mainly large-leafed, late-flowering rhododendrons sheltered below beech and Scots pine. Species to delight in here include the yellow-flowering Rhododendron macabeanum, R. basilicum and the glabrous evergreen Trochodendron aralioides.
The Walled Garden beside the house contains a splendid collection of flowering herbaceous plants and some excellent shrub roses. Along the north side grow great clumps of Meconopsis, including the most popular Himalayan blue poppy M. grandis and a local variety, M. x sheldonii 'Slieve Donard'. In midsummer the various primulas put on a great display, especially the vigorous natural hybrid Primula 'Rowallane Rose' which seeded itself her in the days of Armytage Moore. Early-flowering shrubs in the area include magnolias, Vibernum plicatum tomentosum 'Rowallane' and many other tender subjects. The national collection of large-flowered penstemons is held at Rowallane and makes an excellent end-of-season show. Varieties to note include 'Garnet', 'Burgandy' and 'Sour Grapes', with delicious shades of crimson. Also eager to impress are a group of showy gloxina-like varieties characterised by clear white-throated flowers in reds and crimson.
> > > Read the concluding part of this article