Tully Japanese Gardens, Co. Kildare

Normally gardens consult the genius of place in their design but at Tully the local countryside is excluded and the visitor enters an environment that exudes the mystical and botanical world of distant Japan. One of the most successful gardens of its kind, Tully is a product of the Edwardian vogue for Japanese garden making which developed as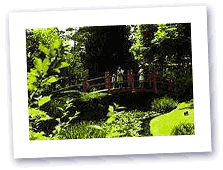 The gardens were devised and subsequently presented to the nation by Colonel Hall-Walker, later Lord Wavertree, a wealthy businessman, orientalist and successful albeit capricious horse-breeder who had established a stud at Tully. He imported a shipload of plants, bonsai, stone ornaments and even a geisha house from Japan and employed a Japanese landscape designer, Tassa Eida, who travelled to Ireland with his wife and two sons and lived at Kildare from 1906 to 1910, to supervise the work of forty Irish gardeners.

The >constituent elements of a Japanese garden are characteristically used in a symbolic composition to express an idea. At Tully the designer has made the path through the garden symbolical of the vicissitudes of man's life from the cradle to the grave.

The journey starts at the Gate of Oblivion where the soul strives to inhabit a body. Birth is symbolised by a rock cave, followed by a path through a dark tunnel signifying the ignorance and incomprehension of the infant. The growing child may ascend the Hill of Learning, after which he will follow a winding stream where a three-way parting of roads offers a choice between a straight path, indicating bachelorhood, a path lined with cherry trees, indicating a life of self indulgence, or a middle path leading to the Island of Joy and Wonder with marriage as its reward. The steep Hill of Ambition is climbed and eventually, after a number of blind paths, both married partners enter the Garden of Peace and Contentment with its level lawn, shady trees and wide, slow-moving stream. The Gateway of Eternity brings the pilgrimage to a close.

The gardens are now in the possession of the Irish National Stud and are maintained in an impeccable condition.

Located I mile east of Kildare and 25 miles south west of Dublin in Tully.
NGR: N 735109.
Open daily, Easter to October.
Refreshments available. Gift shop. Plants for sale. Toilet facilities.
Admission charged to gardens, Irish National Stud and Horse Museum.