Mount Usher, County Wicklow
More praise has been heaped upon the gardens of Mount Usher than on any other in Ireland - but whatever the superlatives these gardens never cease to impress and with each visit reveal new and unexpected delights. The quality and range of plants is remarkable, with over 4,000 species represented including many quite exceptional specimens; but what is particularly striking is the highly accomplished manner in which the many luxuriant plants have been incorporated into an authentically wild 'Robinsonian' layout, covering only twenty acres. A sense of space and fluidity is provided by the Vartry River which flows through the central axis of the garden, while a series of long grassy vistas helps to relieve any sense of being hemmed in by the many trees and shrubs. The views up and down the river are wonderful, particularly from the vantage point of its four bridges, while the constant sound of falling water from the weirs and rocky outcrops adds further to the character of this idyllic place.

The origins of this remarkable garden go back to 1868 when Edward Walpole, a Dublin businessman, purchased the lease of a small tuck-mill in a wooded valley on the edge of Rossanagh demesne. It was intended as a weekend retreat, but before long his three sons, Thomas, George and Edward, began enthusiastic ally transforming its one acre of ground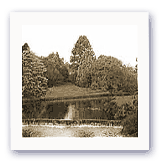 into a garden. Edward was so taken with his sons' efforts that he transferred the property to their names in 1875. They continued to develop and enlarge the garden until their deaths - filling it with a huge number of rare and tender plants collected from nurseries throughout the world. From an early stage the Walpoles adopted the naturalistic style of planting advocated by William Robinson, who personally visited and approved of the garden in the early 1880s. This form of planting was continued by a grandson, E. Horace Walpole (1880 1964), and later in turn by his son Robert who sold Mount Usher to Madelaine Jay in 1980. It is this adaptation of a consistent gardening style over most of its long history that has contributed enormously to Mount Usher's distinctive charm.
The entrance into the garden lies at the far end of a courtyard housing a number of antique and craft shops. Passing through a gate the visitor enters a quadrangular area known as the Orchard, bordered by a fine beech hedge planted in 1927. This compartment contains a display of dwarf conifers, a long herbaceous border laid down in the mid 1980s and a number of flowering trees and shrubs, including a small collection of lilac trees. From a hole in the hedge a winding path uphill passes a small pavilion dedicated to the Walpole family and leads on to the Maple Walk - a grassy ride aligned on the river. The colours along here are brilliant in autumn, a palette of scarlet and gold from the maples mingling with the striking blues of the waterside hydrangeas. Summer colour is provided by manuka or New Zealand tea trees, including the rosy red-flowering Leptospermum scoparium 'Chapmanii', while several conifers in the area give contrast, notably a small but elegant Juniperus recurva coxii with gracefully drooping branches and a beautiful false larch, Pseudolarix amabilis, whose pale green leaves turn a golden yellow in autumn.
The Maple Walk draws the visitor down towards the river - the focal point of the garden - where bold and highly effective plantings frame the water's margins. Huge gunnera, royal ferns and umbrella saxifrages have all naturalised here; so too have yellow and white-flowering Iysichitons, mimulus, hostas and numerous candelabra, polyanthus and other primulae. Clumps of New Zealand flax, cordylines, bamboos and pampas give an exotic touch to the waterside, while delicate seasonal colour is provided by a happily balanced planting of conifers and deciduous trees. The views along the river are particularly striking in autumn, the water reflecting the rich yellows, oranges and crimsons of liquidambars, fothergillas, cercidiphyl lums, amelanchiers, acers, willows, dogwoods, swamp cypresses (Taxodium distichum) and a number of very beautiful tupelo trees (Nyssa sylvatica) which look particularly impressive beside clumps of white pampas grass.
> > > Read the concluding part of this article