Ardress, County Armagh
Irish country houses that have developed over the centuries have always held a special fascination and charm, and none more so than Ardress - a modest gentleman farmer's residence with aspirations of grandeur. Originally a seventeenth-century house, it was enlarged with a hotch-potch of extensions at various times between 1780 and 1810 - all cleverly incorporated behind symmetrically composed façades. One of these additions includes a splendid drawing-room that could belong to a sophisticated Dublin town mansion of the period; above all else it gives Ardress its elegance and distinction.

The central portion of Ardress, behind the five centre windows of the front facade, is a two-storey gable-ended house built sometime around 1670 for the Clarke family. It has a rectangular plan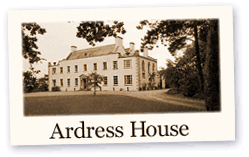 and retains its original steeply pitched butt-purlin roof of local oak - a type of roof-timbering that is only known in five other Ulster houses but is characteristic of vernacular roof carpentry techniques found in many seventeenth century box-framed houses in England. Internally the house retains its tripartite plan, with a long, narrow hall flanked by the parlour on the left and the former kitchen to the right.
In 1700 a new kitchen extension was built to the rear of the house and the present oak staircase erected at one end of the former kitchen, while the remaining area, now known as the inner hall, was integrated with the hall by knocking an arch through the wall. The parlour retains its early proportions and now contains some fine Irish furniture, notably an oak and applewood bureau bookcase made locally circa 1725, a walnut chest dating from 1700 and a good regency-period Pembroke table; the Italian marble scagliola chimney-piece was probably installed around 1740.
A door from the parlour leads into the great surprise of the house - the magnificent drawing-room added in 1780 by the Dublin architect George Ensor, brother of the better-known architect John Ensor. George married the heiress Sarah Clarke in 1760 and decided to settle at Ardress with his wife in 1778 upon his retirement as Clerk of Works to the Surveyor General. The new room was decorated by one of the great stuccodores of the age, Michael Stapleton - the great Irish master of the restrained neo-classical plasterwork associated with Adam.
Stapleton's decorative ceiling design at Ardress is among his best works; it comprises intertwining segments of circles embellished by delicate foliage, urn motifs and a central plaque representing Aurora in 'The Chariot of the Dawn'. More classical medallions are arranged symmetrically on the centre of each wall and are festooned with delicate husk chains. The present colour scheme is based on a free interpretation of the pink and green watercolour tints shown in Stapleton's original drawings in the National Library of Ireland. Prior to 1961 the walls were a sharp green with the decorative plasterwork, frieze and ceiling left white. The room's plasterwork is suitably complemented by a pair of neo-classical settees, a pair of gilded torchéres with sphinx heads and two fine commodes.
> > > Read the next part of this article