Carrigglas Manor, County Longford

The blue-grey limestone facade of Carrigglas, with its great oriel windows, battlemented turrets and high pitched gables, has a mystical, almost dream-like quality as it rises serenely over the surrounding park land. A finer example of castellated Tudor Revival architecture would be difficult to find. Carrigglas was designed by the Scottish architect Daniel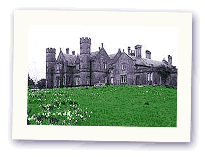 Robertson in 1837 for Thomas Langlois Lefroy, Lord Chief Justice of Ireland, replacing an earlier house belonging to Lord Newcomen who had committed suicide after his bank collapsed. The Lefroy family still live in and maintain the house. With most of its original pictures, artefacts and furniture still intact, the interior exudes an atmosphere of early Victorian living that is unspoiled by later decorative schemes.

Passing through a formal entrance hall revealing hard wooden seats for unwanted guests, one arrives in a central chamber dominated by a staircase notable for its cast-iron handrails. This room is lit by a stained glass window displaying the Lefroy coat of arms. (The Lefroys are a family of French Huguenot ancestry. The first member to settle in Ireland was Thomas's father, the family having previously been silk dyers in England and bankers in Laverno, Italy.) Below the window srands a bust of Thomas - or the Chief, as he was called - modelling as a Roman senator. An enigmatic and colourful character, he had in his youth become an inamorato of Jane Austen and was later immortalised as Darcy in Pride and Prejudice.

Magnificent double doors with Gothic panelling link the three principal reception rooms in an enfilade along the garden front. At one end lies the drawing room with its striking compartmented ceiling and cornice of foliage, still coloured the original hues of rose and pale blue. The furniture in this room largely came from Dutch relatives, while the splendid chimney piece was a gift from Thomas's aunt, the Countess of Carrara, who sent over a block of white marble with a mason to carve it in situ. The adjacent library has a comfortable appearance; big arm chairs, a Siena fireplace, Tudor-Gothic doors and a Gothic bookcase create an air of ease and repose. Portraits of various ancestors gaze down from the walls, as they do in the dining-room where the walls still retain their original stone colour. Despite its large size, the dining-room has quite a warm feel created by the mellow glow of the mahogany table, the old Turkish carpet and the red upholstered dining chairs. A magnificent Chinese painted leather screen stands close to the fireplace while above the mantel a large portrait of Chief Justice Lefroy commands all aspects of the room.

Upstairs the bedrooms seem endless. One room has a particularly fine silk oriental carpet, an enormous four-poster bed, Irish rosewood table and Staffordshire his-and-hers washing sets. The floral patterned wall paper is copied from Queen Victoria's bedchamber at Osbourne.

Visitors to Carrigglas must inspect the magnificent double courtyard stable and farmyard complex that was erected before 1790 to the designs of James Gandon, architect of the Custom House and Four Courts. Gandon also designed the main entrance to the park, with their symmetrical flanking lodges.

Located 3 miles north east of Longford on the Granard Road (T15/R194).
NGR: N 170770. Open daily, June to September.
Groups should book in advance.
Lunch in house and tea room. Dinner by special arrangement.
Gift shop.
Toilet facilities.
Admission charged to the house and gardens.
Accommodation in house and self-catering apartments in stableyard available.