Florence Court, County Fermanagh
The large segmental arch at the rear of the hall, which opens onto the magnificent grand staircase, once had a partition wall and double doorcase, but in 1955 this was removed in the mistaken belief that it was a nineteenth-century addition. In fact, this arch was probably blocked around 1760 when the rear of the house was remodelled, as a result of which the staircase hall and its flanking drawing-room and dining-room are quite different in scale and mood from the front of the house. They are bright, large and well proportioned, with splayed windows, simple architraves and vigorous rococo plasterwork in the style of Robert West.

Great panels of swirling foliage decorate the walls of the staircase hall with a Gothick cornice of cusped and ogee arches. Sadly, the elaborate drawing room ceiling was lost in the fire of 1955, but the ceiling in the dining-room survives and is one of the best examples of rococo plasterwork outside of Dublin. It is composed of symmetrically arranged and naturally rendered scrolls of foliage, birds, rocaille work, shells and flamboyant palmiers. The centre-piece is an oval panel containing an eagle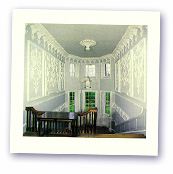 in high relief representing Zeus, who holds his thunderbolt and hovers in the midst of a stormy empyrean, surrounded by the heads of four cherubs vigorously puffing the winds to the four corners of the earth.
Visitors who look closely at the dining-room ceiling will notice some of the small holes drilled during the 1955 fire to allow the water pumped into the room above to drain away. These holes were the result of quick thinking on the part of the late Duchess of Westminster, Viola Grosvenor, who arrived during the fire to find little urgency about saving family treasures and discovered the old butler on the stairs removing a pair of his master's socks. She managed to get the servants to form a human chain and thus saved much of the house's contents. Unfortunately, the fire destroyed the fine plasterwork of the bedroom landing lantern, the martial decorations of the schoolroom ceiling and the Chinese wallpaper in the red room, while the grand staircase with its wonderful joinery was miraculously only slightly damaged. The plasterwork ceilings in the Venetian room and the entrance hall, which had been completely destroyed, were later expertly restored by the late Sir Albert Richardson.
The National Trust acquired Florence Court as a gift in 1954 from John Henry Cole, fifth Earl of Enniskillen (1876-1963). The contents and most of the land remained in the family and were subsequently inherited by his nephew David Lowry Cole, sixth Earl of Enniskillen (1918-89). The sixth Earl and his unpopular American wife left Florence Court for Scotland in January 1974, sadly leaving behind an empty house. The Trust has since successfully refurnished the building through purchase, donations and bequests. The emphasis has been on acquiring eighteenth-century Irish furniture - an admirable policy considering the quintessentially Irish character of this endearing house.
Located 8 miles south west of Enniskillen on the Swanlinbar Road (A4). NGR: H 175343. Open April, May and September: Saturdays, Sundays and bank holidays. Open daily during Easter. Open daily from June to August, except Tuesdays. Gift shop and tea room open as house. Toilet facilities. Admission charge to house estate. Tel: (036582) 249