Lismore, County Waterford
Everyone who has crossed the bridge over the Black water River into the town of Lismore will be familiar with this irresistably romantic castle, whose splendid silvery-grey turrets, towers and battlements rise serenely from a cliff above the wooded banks of this most Rhine-like of rivers. While extensively remodelled in the nineteenth century, the walls of Lismore incorporate many earlier buildings with a history stretching back over 1,000 years.

Although the name Lios Mor means 'big fort', the castle site was originally occupied by an important monastery and seat of learning established in the early seventh century. It was still an ecclesiastical centre when Henry II stayed here in 1171, and except for a brief period after 1185 when a castle was built here, it served as the episcopal residence of the local bishop. In 1589 Lismore was acquired by Sir Walter Raleigh, who sold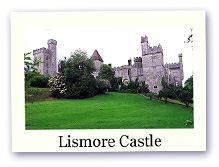 the property in 1602 to another famous adven turer, Richard Boyle, later Earl of Cork. Boyle was a man of extraordinary wealth who had arrived in Ireland as a young man in 1588 with only twenty-seven pounds in capital.
He never did anything by halves and having decided to make Lismore his principal seat, proceeded to transform it into a magnificent residence with impressive gabled ranges each side of the court yard. He also made a fortified garden wall with turrets and an outer gatehouse known as the Riding House. The principal apartments were opulently decorated with fretwork plaster ceilings and hangings of tapestry, embroidered silk and velvet. Boyle lived in these apartments with his family and it was here in 1626 that his famous son was born - Robert Boyle, father of modern chemistry. Unfortunately, the castle was sacked by the Confederates in 1645 and although the second Earl made it habitable again, neither he nor his successors, who called themselves by their alternative title of Burlington, were interested in Lismore, preferring to live in England.
The castle was acquired by the Cavandish family in 1753 when the daughter and heiress of the fourth Earl of Cork married the fourth Duke of Devonshire. Their son, the fifth Duke (1748-1811), carried out improvements at Lismore, notably the bridge across the Blackwater in 1775, but it was the sixth Duke (1790-1858), known as the Bachelor Duke, who was responsible for the castle's present appearance. He began transforming the castle into a fashionable 'quasi-feudal ultra-regal fortress' as soon as he succeeded his father in 1811, engaging the architect William Atkinson from 1812 to 1822 to rebuild the castle walls with cut stone shipped over from Derbyshire.
> > > Read the next part of this article