Mount Stewart, County Down
Social entertainment was always an important part of country house life and nowhere more so than at Mount Stewart, whose luxuriously appointed and sun-filled apartments were once the setting for a succession of glittering house parties that sometimes even included royalty The Marquesses of Londonderry were fabulously rich and although they had an English seat and a palatial house in Park Lane, regularly came back to Mount Stewart where they continued their role as prominent political hosts Their house, a long, low and deceptively large classical building overlooking Strangford Lough, has undergone many changes by successive generations of the family, most recently by Edith, wife of the seventh Marquess, during the interwar years It retains its comfortable house-party atmosphere, while its famous formal gardens created by Edith as an extension to the reception rooms remain much as she Ieft them.

The Stewarts achieved their enormous wealth largely through astute marriage arrangements originally, the family settled near Moville where they had been granted lands in the seventeenth century, but in 1737 Alexander Stewart (1700-81) married Mary Cowan, an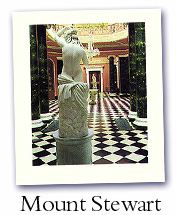 heiress with shares in the East India Company. With her fortune he purchased the demesne lands of Mount Stewart in 1744, originally known as Mount Pleasant, and built a house there His son Robert (1731-l821) consolidated the family's fortune and social influence and was created first Marquess of Londonderry in 1816.
He employed James 'Athenian' Stuart to build the Temple of the Winds above Strangford Lough between 1782 and 1785; later, between 1804 and 1806, he engaged the London architect George Dance to design what is now the west wing of the mansion. Nearly two decades earlier Wyatt had been brought in to remodel his father's house, but Wyatt's designs were never to be realised as so much money was spent getting the young Robert Stewart elected as MP for County Down - an election which turned out to be a good investment since Stewart, later Lord Castlereagh and second Marquess of Londonderry (1769-l822), rose to be Foreign Secretary, leader of the House of Commons at Westminster and perhaps the greatest political figure of his generation. Lord Castlereagh committed suicide in 1822 and the family estates were inherited by his half-brother Charles, the third Marquess (1778-I854).
A few years earlier he had married Lady Frances Anne Vane-Tempest, heiress to one of England's richest families with vast estates and collieries in the north of England. Although the new Marquess now found his time divided between a string of country seats in England and the palatial Holderness - later Londonderry House in Park Lane - he nevertheless engaged the celebrated Irish architect William Vitruvius Morrison to rebuild and enlarge Mount Stewart in 1835. The work was finished around 1840, some two years after Morrison's death, and comprised a large new block to the rear of the oId house with an eleven-bay entrance front and pedimented porte cochère. The new work was designed so that it matched Dance's earlier building and a balustraded roof parapet was added to give the whole house a sense of unity.
> > > Read the next part of this article