Newbridge House, County Dublin
Although located within a few miles of Dublin's advancing urban sprawl, Newbridge House still man ages to preserve its character of a secluded eighteenth century gentleman's residence set in a wooded demesne. The house features a series of beautifully proportioned rooms each retaining their original furnishings thanks to an agreement between the Cobbe family and its new owners, Dublin City Council, who acquired the property in 1986 and have since embarked on a major restoration of the house, yards and parkland.

The front façade of Newbridge is particularly attractive. A facing of pink ashlar gives it a lovely warm glow, while the use of a high basement, solid roof parapet, shouldered window architraves and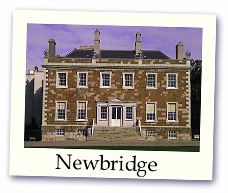 tripartite doorway within a two-storey six-bay composition is also undoubtedly a surcess. For many years Newbridge was believed to be the work of Richard Castle, but we now know that it was designed by the prominent Dublin architect George Semple and built between 1749 and 1750 for Archbishop Charles Cobbe on land acquired in 1736.
Charles Cobbe (1686-1765) first came to Ireland in 1717 as chaplain to his cousin - the Lord Lieutenant and second Duke of Bolton. Despite a limited intellectual capacity he enjoyed rapid promotion through three minor bishoprics and became Archbishop of Dublin in 1742. His portrait hangs in the hall and shows him wearing a long grey wig and a black sleeveless surplice over the full long sleeves of a bishop. He died in 1765 and the house was inherited by his son Thomas and his fashionable wife, Lady Betty Beresford, sister of the first Marquis of Waterford. They built a wing at the back of the house to accommodate a huge drawing room for entertaining and a gallery to house their growing collection of pictures and statuary. The drawing-room was subsequently redecorated by Thomas's grandson in the regency style and the house has since remained remarkably unaltered.
Conventionally the hall has a masculine and conservative appearance with a strong architectural character that would he entirely at home in any house two decades earlier. Prominent features include a bold modillion cornice wall panelling bold dado rails and skirting boards lugged architraves and a large pedimented chimney-piece incorporating the Cobbe coat of arms. Here in this room guests would have been received and business transacted with tradesmen. To the right lies the dining-room dominated by its original black Kilkenny marble chimney-piece a survival of a post 1765 redecoration of the room which saw a rococo ceiling, plaster wall panels and festoons installed. The Greek key pattern of these panels is reflected in the two Irish Chippendale sideboards which were made especially for the room. The chairs surrounding the large dining-room table all have the Cobbe family crest; above is a magnificent chandelier whose glittering crystal would have been reflected in the elaborate mirror on the wall.
> > > Read the next part of this article