Springhill, County Londonderry
Considering the harsh and unappealing conditions that still prevailed in late seventeenth-century Ulster, it is perhaps surprising that country seats developing at that time were often pleasant and unassuming buildings exuding a feeling of warmth. Sadly, such houses from this period are now rare, though one particularly attractive and well-preserved example is Springhill - a charming and almost timeless building whose white washed front facade still brings to mind 'something of the ancient dignity of resident landlords' as it did for Sampson, writing nearly two centuries ago.

The early history of Springhill is a little elusive, but the present house was built by William 'Good-Will' Conyngham as part of his marriage contract to Anne Upton in 1680 to 'erect a convenient dwelling house of lime and stone, two stories high, with necessary office houses, gardens and orchards'. It is not known if a dwelling stood here previously, but the townland of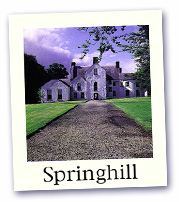 Ballindrum (Springhill) had been bought for £200 by Good-Will Conyngham's father in 1658 . Earlier it belonged to a London company, the Salters, and prior to this had formed part of the ancient territory of the O'Cahan's.
Although enlarged with wide canted-bay pavilions in the late eighteenth-century, the house that Good-Will built survives much as he left it - a gable-ended block of two storeys over a basement with a steeply pitched roof, solid brick chimneys at each end and tall, thin windows in a seven-bay symmetrical front fa&ccedilade. Springhill faces north onto a deep courtyard flanked by long, low office ranges with pointed windows (a later insertion) and curvilinear 'Holborn gables' - a Flemish type which seems to have been much used in late seventeenth-century Ulster. Front courtyards were a standard feature of the period and Springhill was originally entered from the north through large gates aligned upon a long, straight avenue. The main out buildings, grouped around a series of small yards flanking the house, include a recently restored barn with pistol loops and an important oak roof, which like that of the main house incorporated butt purloins, rare in Ireland. Tree-ring dating by Queen's University, Belfast, revealed a date of 1694 for a lintel from this barn, while a floor joist timber from the attic of the main house produced a felling date of 1697.
The seventeenth-century building has a tripartite plan with a centrally placed stair projection at the back. Approached by four stone steps leading to a door with a plain stone frame, it reveals a square entrance hall with bold bolection plaster panelling that is probably contemporary with the house. The door to the staircase hall is flanked by two pikes used in the Battle of Vinegar Hill, County Wexford, during the 1798 rebellion.
This magnificent broad staircase is the real glory of Springhill and one of the earliest to survive in Ireland. The treads are made of oak while the handrail and balusters - alternately plain and spiral twisted are made from yew. Ancestral portraits line the walls above, including one of Good-Will Conyngham, while at the foot of the stairs is a heavy oak chest inscribed 'John Smith maid this in 1714'.
To the left of the entrance hall lies the gun room, a dark, masculine room which retains its original bolection moulded oak panelling. Formerly the dining-room, it must have been made into a small drawing-room around 1770 as restoration work during the 1960s accidentally revealed pretty handprinted English wall paper in the panel frames. Later it became home to a fine collection of guns and swords reflecting the family's military past. Among the items on display are a few bulky blunderbusses, a Kentucky rifle, duelling pistols and a number of flintlocks, later converted to muzzleloaders and used in the siege of Derry in 1689.
> > > Read the next part of this article