The Crown Liquor Saloon, Great Victoria Street, Belfast
This saloon really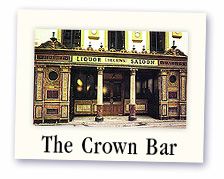 deserves its name - it is the crowning glory of Northern Ireland's pubs, and thought by some to be the finest example of ornate Victorian Gothic décor to be found anywhere. The Crown, owned by the National Trust and managed by Bass Ireland, is located opposite the Europa Hotel, and the Grand Opera House, at the start (fittingly) of Belfast's "Golden Mile".
Established in 1826 and embellished in 1885 by skilled Italian craftsmen, the pub was given a sympathetic facelift in 1981, when great care was taken to maintain, preserve and restore, rather than renovate.
Even the exterior, a giftbox of multi-hued tiles, coloured windows, and ornate columns gives a promise of the glories within. Inside, with the sun streaming through the stained glass windows, the atmosphere is cathedral-baroque, enhanced by a floor of intricate mosaic tiles, an elaborate ceiling of red, yellow and gold, and brocaded walls. In fact, the Crown is an ocular feast, a veritable cornucopia of detail - everywhere you look you find mirrors, etched and painted glass, fleur-de-lis, fairies, pineapples, clowns, an endless variety of amusing surprises.
The ten intricately carved snugs are in mint condition, each guarded by a mythological beast holding an armorial shield inscribed with a Latin motto such as "Audentis Fortuna Juvat" (Fortune Favours the Brave). You can pick your snug theme of the day.
The interior of these boxes is plushly upholstered, and you'll find everything a good Victorian gentleperson could wish for: gun-metal plates for striking matches, little windows to peep out of, and an antique bell for summoning service.
Only the colour TV intrudes on a scene that otherwise has remained unchanged for a century.
Food: typically Irish dishes based on fresh ingredients (Irish stew, steak and kidney pie, champ) and local fish and shellfish.
The Crown Liquor Saloon is located at the start of Belfast's 'Golden Mile' on Great Victoria Street.
From the Appletree Press title: The Irish Pub Guide.
Also from Appletree: Irish Pub Songs.