The Kitchen Bar
16 Victoria Square, Belfast

The Kitchen, a traditional old pub, draws a lunch-time horde but is well worth the struggle for a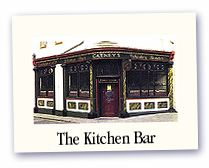 table. Best tactic is simply to get there either a bit early or after the worst is over. But do go.

Before becoming a pub in 1859, the building was a boarding house for young ladies. In its new incarnation as The Kitchen, it became the favounte watering hole of the star performers of Belfast's famous music hall The Empire. Singers, actors, clowns and dancers-all congregated here, and you can still see the theatre posters from those "good old days" on the walls of the pub.

Good pints, including real ale, exceptionally good, home-made Insh stew and pub grub.

Note: If you're interested in theatre, ask to see the box of old photos, some of them are fascinating.
You can find the Kitchen Bar at 16 Victoria Square right in the centre of Belfast.
From the Appletree Press title: The Irish Pub Guide.
Also from Appletree: Irish Pub Songs.