P. McCarthy's
Westport, Co. Mayo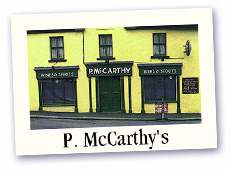 The new McCarthy's opened in 1991 after being closed down for ten years. The front room is all low ceilings and dark wood emitting an ambience of moody intimacy with quite a few secluded areas for small parties of six to ten people. The pièce de résistance is the dark wood, 1930s bar. The shelving behind the bar is embellished with carved posts and figures that date back to the turn of the century and were purchased at auction from a priest's house in Northern Ireland.
At the back is a large open beer garden. Tables and chairs are made from tree stumps and are set like little islands, separated by various types of foliage. The garden has its own bar outside, so service is prompt and courteous.
You can find P. McCarthey's in High Street, Westport Co. Mayo.
From the Appletree Press title: The Irish Pub Guide.
Also from Appletree: Irish Pub Songs.